By Dan Sanchez
As avid outdoor adventure seekers, we've dented our share of insulated stainless steel water bottles, punctured a number of hydration bladders, and destroyed water purifier pumps. The problem starts when they get constantly stuffed in backpacks or get tossed around in the interior of our Jeep.
Eventually, the bite-valves and straw-lids get chewed-up and will lose suction or leak. This is one of the reasons we like Mazama's hydration reservoirs, as they offer a full line of replacement valves and tubes, as well as accessories that allow their reservoirs to adapt to a wide variety or packs.
While a one or two-liter reservoir is perfect for short to medium-length hikes, we like three-liter reservoirs, as they are convenient to have on long treks that can last all day, or fill them partway for a quick day hike. The problem with three-liter reservoirs is that they are larger and sometimes don't work with your specific type of pack. Mazama's three-liter AXE reservoirs, however, are especially convenient as they come in two styles that can fit perfectly with just about any type of pack you carry.
The Mazama AXE 3L and Top Fill 3L Reservoirs both measure 17.4 x 8 inches and have the company's wide mouth and leak-proof top fill port. The twin locking levers have never popped open on us, even after taking a tumble while scrambling over large boulders and landing flat on our back.
If your backpack has a specific water reservoir pocket, Mazama's Top Fill 3L Reservoir easily slips into place and the long drink tube can be easily routed through your pack. If comes with the company's high-flow bite valve (DesChutes) and a one-hand push button that shuts it off. We really liked the high-power magnets that easily attached to our daypack's shoulder strap and didn't dislodge so easily with any slight tug or movement of the pack. The Top Fill fits most all kinds of day and backpack models, including slim bicycling packs made for three-liter reservoirs.
For those of us who have a variety of packs, the AXE 3L Reservoir is a bit more convenient. It has the same bite valve on the drink tube, but it features a full-length plastic handle. It was designed to make it easier to hold and fill the reservoir from a water spigot or fountain. We liked that it also provides additional rigidity while stuffed in a daypack or backpack that may not have a reservoir pocket. It keeps the bladder from losing its shape as the water level decreases, preventing it from moving around in the pack. It also features a quick disconnect at the top of the bladder, making it easy to leave your drink tube secured on your pack's shoulder pad while you refill the reservoir. It also makes it easy to switch out various length hoses if you have more than one type of pack that requires a longer or shorter drink tube.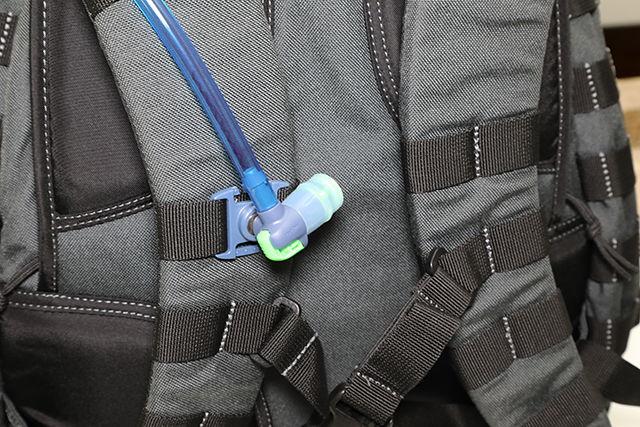 Both three-liter reservoirs are made from PVC/BCA-free U.S. sourced film that has no plastic taste or smell. We would definitely recommend getting Mazama's accessory kit and cleaning kit. The accessory kit allows you to route and customize your drink tube to your specific pack with various retainers and clips that allow you to add other accessories like their QuickStream Hydration pump kit. The Cleaning Kit makes it so much easier to wash and dry your reservoir with a folding hangar and various brushes to clean the reservoir and drink tube.
While carrying a three-liter water reservoir is about 2.5-lbs. heavier than a two-liter reservoir, we feel weight-conscious hikers/backpackers can shed pounds elsewhere in return for being properly hydrated and having enough water in case of an emergency. The Mazama three-liter reservoirs proved to be rugged and kept the water flowing during all of our excursions.
The Top Fill 3L reservoir retails around $14 while the AXE 3L reservoir (with plastic handle and quick disconnect drink tube) retails at around $24. For more information visit www.mazamadesigns.com.