A tough work and outdoor pant with a real soft side
By Dan Sanchez
The outdoor lifestyle is much more complicated than what most people are led to believe. On the one hand, we want everyday apparel to look casual enough for work, but also be durable on the job-site as well as in the outdoors. In addition, we want our apparel to be incredibly soft, comfortable and able to move with our bodies, should we decide to take a short hike, or climb a boulder on our lunch break.
We were first introduced to Walls Outdoor Goods as workwear that was also made for hunters and avid outdoorsmen. The company dates back to 1938 making coveralls in Dallas, Texas, immediately making us think that a pair of their new Kick It Pants was going to be thick, heavy and leave our thighs with rashes after wearing them on a short hike. Once we tried it on, the Kick It Pant quickly became one of our favorites.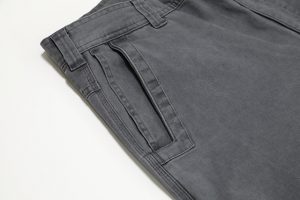 Manufactured from nine-ounce duck, a cotton heavy plain woven grade of canvas, the Kick It Pant is durable feeling, but isn't heavier than an average pair of jeans. Walls pre-washes the pant so that it appears slightly weathered but is also extremely soft and comfortable. Throughout the pant there's double stitching in key areas that add to its strength and durability.
The right pant leg features dual deep front pockets that keep your keys, phone or whatever you carry from falling out when sitting or working on the job. The pockets are also made from the same durable cotton canvas that will prevent your keys or anything else from creating a hole over time. Walls also included a drop-in cell phone pocket that keeps it secure, while being wide enough to easily reach in and take out should the boss, (or wife) call.
While the features are great, one of the most important aspects of any "outdoor" pant is fit and how it moves with your body. The Kick It Pant's gusseted crotch was a good sign that no matter how much you bend your knee or lift your leg, the pant will follow and not tighten up in sensitive areas. Bending over in a pair of pants often pulls down in the center, but the Kick It Pant features a wide center belt loop that holds it in place.
One of the things we liked best about the Kick It Pant other than it's soft feel, is the heavy-duty trim around the pockets that allow us to securely clip our daily wear pocket knife without feeling like it may rip the pocket open. We also liked the heavy-duty center button that is riveted to the pant and feels secure, even when wearing the pant without a belt.
While the Walls Kick It Pant is considered work and outdoor wear, it's a nice enough pant to wear on a date or any office meeting where the dress is casual. Pair it with a collard shirt and a pair of Chukka style boots, and you're ready to demonstrate that your apparel isn't only for the outdoors but it's also in style. The Kick It Stretch Work Pant comes in dark brown, graphite, pecan, and retails around $45. More information on Walls Outdoor Apparel is on the company's website at walls.com.
Trim around pockets are great for a daily wear pocket knife