Exploring Northern California's Volcanic Region

By Mary Webb
Taking in the vision of peaks of majestic mountain ranges and recalling treks along budding forest floors makes you think.  Sometimes it's easy to forget the geological history that has transpired to produce the abundance of beauty you see all around you.  And it's a glorious beauty we enjoy throughout our seasonal hikes and adventures. This particular adventure took us to the Lassen Peak volcanic region in Northern California, and the Indian Peak Vineyards.
Let's go back in time, 20,000 to 30,000 years to northern California; when Lassen Peak, a lava dome off of Mount Tehama, first erupted.  Lassen Peak is one of the largest plug domes to be found, chiming in at 10,457 feet in elevation.  Lassen Peak is one of 30 volcanoes that have erupted over the last 300,000 years in the Lassen Volcanic area. Notwithstanding, Lassen Peak and the real estate that surrounds it spills out into the lower elevations and countryside for many square miles. This has left a deposit of mineral-rich soil and a climate that bodes well for sun-nourished agriculture and the inquisitive traveler alike.
Several outdoor activities are available in this scenic Lassen Peak volcanic region.   Hiking up to the peak of Mount Lassen can be enjoyed most times during the year. Summer treks are much less intimidating for most folks, but you have to contend with extremely hot days down below the high country. Winter months bring opportunities for snow shoeing, cross-country skiing, and an endless menu of snow sprinkled fun in the region radiating around Lassen Peak.  There are eight campgrounds in the area, and plenty of back country hiking trails ranging in level of difficulty from the novice to the advanced mountaineer.
There are also hikes that will take you to view some of the amazing volcanic-gas and steam vents.  One of the best areas to see the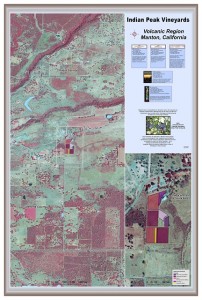 park's hydrothermal areas is Bumpass Hell, a three mile round trip hike. There is also something for those who prefer to traverse the underground, via lava tubes!  One such place to see these unique creations of nature is called the Subway Cave.  With flashlight in hand, on-lookers will be able to view these naturally cooled conduits.  Make sure to bring a jacket, as these caves are chilly!
Early California legend has it that Native Americans indigenous to the area, would use these lava tube structures for natural refrigerators to store venison and harvested food stuffs. They would also use the tubes to slip away from U.S. Cavalry several times throughout their local history.
If traveling by foot through lava tubes isn't your idea of a fun time, the Lassen foothills offers horseback riding at a wild horse sanctuary.  Don't worry, you don't have to ride like Clint Eastwood to enjoy this experience, as the  riding is conducted by guides.
Another area of interest to anyone wanting to experience and learn about the area's history is to visit The Sanctuary. It's a great place to learn about the Native American peoples and pioneer history. You'll see the miscellany of homesteads, Indian camps, and arrow heads that are evident throughout the sanctuary.
Our trip to the Lassen Peak region, took us just south west to the town of Manton. What's interesting about Manton is that it has a population of less than 500 people. The drive up to Manton is picturesque with its  red-soil that is one of the geologic signs that you're in volcanic territory. There were also numerous volcanic stones and various size rocks that pepper the terrain.   It was reassuring to see volcanic rocks being used productively, as several resident land owners stacked the stones to build sturdy walls along the roadsides.  Old barns and Mistletoe oaks dotted the winding road up to Indian Peak Vineyard.  It was harvest time during our visit and these fresh air junkies set out for an afternoon of helping to collect vineyard grapes in the warm Manton sunshine.
Meeting up with several other outdoor adventurers, we were given pruning shears, bins and plenty of coffee!  Fred Boots, owner and viticulturist gave us an official welcome. So with a smile, Boots set us on our first trek of the day, where we were to start harvesting the 26 rows of Cabernet grapes.
It was a delightful experience to hold a fistful of sweet fruit in our hands and prune them just at the top of the bunch;  being careful not to cut too much of the canes, as this will negatively affect the next years growing season.  A" little bit" of snacking was permitted, and it was such a treat to taste a fresh wine grape right off the vine.
After a few rows and a couple hours later, we were really getting the hang of it!  As our bins started to fill, the beer started to flow.  Yes, beer!  It is common and quite customary in most vineyard harvesting events to partake in a beer or two while cutting the grapes.There are other varieties of grapes grown at Indian Peak such as, Pinot Noir, Merlot, Sauvignon Blanc, Cab Franc, Malbec and Petit Verdot.
Manton is at an elevation of 2,200 feet, so these grapes have an advantage to neighboring wine regions because the cooler temporal conditions make the fruit less susceptible to pests and diseases.  At an average summertime temperature of 100 degrees during the day, the grapes enjoy a rest of 60 degrees in the evenings.After a full day of pruning, it was time to celebrate with a ceremonial crushing of the grapes.  Although this writer has seen episodes of "I Love Lucy" and imagined what this experience would be like, it's another thing to actually partake in it.  The texture of the grapes mixed with the juice really gives a tickle to your toes! We were crushing the grapes the old fashioned way. This is an extremely cool experience that is also truly informative if you are interested in how great wine is made.
Don't let the grape stomping fool you, real work is going on here at Indian Peak under Fred's careful direction. And to think we had the greatest fortune to participate!
First the fruit must be taken from the harvesting bins and put into larger working bins.  Then the fruit is put into a destemmer and crusher to produce the juices.  Depending on the wine to be made, the juice is put into storage and/or wood barrels for aging.  There are tannins on red grapes that are produced through skins and seeds which allow the wines to age longer in barrel storage, typically three years or more.
Manton wine is characteristic in its flavors due to the volcanic soil.  Volcanic minerals add a distinct flavor to the wine; and the soil, having less clay, provides better drainage and is ideal growing conditions for wine grape varietals.
Before saying good bye to Indian Peak Vineyard, we took a seat in the wine tasting room to reflect upon our experience and tried some of the wines, such as Cabernet Sauvignon, Merlot, Abstract Red (a blend of Syrah and Zinfandel) and Sauvignon Blanc.  We couldn't leave without trying Donna Boot's signature dessert wine.  After pouring a glass, and a long day behind us, the experience of Donna's Dessert Wine, together with a bite of dark chocolate was the perfect ending to a perfect day!
Indian Peak Vineyards 31559 Forward Road Manton, CA  96059 (530) 474-5506 IPV@frontiernet.net
http://www.indianpeakvineyards.net/home.html
Editor's note: Reference sites below offer a deep, more technical, look into the Shasta County and Mt. Lassen region for you to plan your own adventures and forays into Northern California.
http://www.shastahome.org/shasta-county/shasta-county-regions/volcanic-history-of-lassen-park.html
http://pubs.usgs.gov/fs/2000/fs022-00/