By Riley Tucker
Fresh air junkies on the open water or hiking trails can look to Costa's Caballito for durability and protection against the elements.  Caballito is a name given to baitfish in Panama, which means "little horse."  Fitting, because these sunglasses worked with us on a geocaching excursion; offering light-weight design and durable features.
Sycamore canyon is full of green cache!  Trees, grass and moss await the eager visitor.  With June gloom upon the area, it was a delight to have the Caballito warding off glare from my eyes.  While there are several lenses to choose from in the Caballito series, I wore the gray 580P lenses and it was a substantial contrast when I momentarily took off the glasses upon my ascent to the stream.  The glare from the warming sun along the fog was offset by the 580P lens.  Not only could I read my geocaching unit more clearly, I could see the topographical features in their entirety.
One thing that has always been a distraction to me is when I put on a hat and the sunglass arms push against my ears.  I didn't have this problem in Costa's Caballito.  There is a variegated edge in the arms that grip to the outer ear; this variegation appears at the bridge of the nose as well, offering a supportive stability to the frame.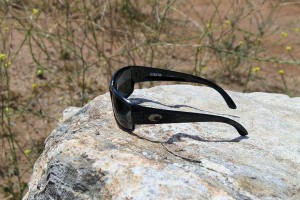 The Hydrolite pads kept the glasses firmly about face.  As these glasses stayed on in the warming afternoon weather, I see why they are popular among the folks at sea.  The support of the Hydrolite pads coupled with the variegation in the arms and bridge would be a welcome addition to choppy waters and windy weather.
In case you were wondering, the Caballito comes in a protective zippered case that keeps the glasses dry and secluded.  This is a welcome addition to the already indestructible nylon frame, when you want to horse around on the trail.
I wore the Caballito in shiny black, but there are also other colors available.  Tortoise, white/black, driftwood, black/coral and black/green are offered for your complimentary attire.  For a suggested retail of $149.00 and a myriad of lens colors, Costa's Caballito will be a nice sporting addition indeed.
Features:
Hinge: Integral
Lens Size: ML
Frame Fit: M
Lenses: CR-39® or glass
Frame Material: Nylon
: Rx-able