THE LOWA ALBULA GTX MEDIUM-DUTY BOOT KICKS FOR THE LADY!

Handcrafted in Germany, the LOWA Albula GTX women's trekking boots are new for 2010. We get a kick when we can say a product is built in a country known for high-quality products. We're just saying right up front we already knew quality was not going to be an issue with LOWA. LOWA is world renown as a proven quantity for decades. You might be thinking, "Oh no you didn't just say that." Oh yes we did.
Anyway, these women's Albula GTX trekkers are built on the platform of a serious LOWA backpacking boot but in a lighter weight design and a bit more flex than a traditional backpacking boot. LOWA's Albula GTX boots will handle your 30- to 50-pound backpack on multi-day excursions.
The primary difference between the traditional backpacking boot, which is the need for a more robust build to handle the extra weight of the pack while providing good foot support, is refined technologies that split the difference and provide solid foot support with lighter overall boot weight yet still handle a moderate pack load or no load at all.
Because this LOWA boot is specifically designed for women, it is narrower in the heel and at the ball of the foot. The woman's Albula nylon boot shanks measure five millimeters at the heel, and three millimeters up at the forefront of the boot. These shanks allow enough firmness to protect the foot against twisting up on rocks, but enough flexibility to stride at a comfortable pace while hiking with or without a pack.
Furthermore, the Albula GTX uses slow reacting foam to conform to an individual's foot for a custom fit. A breathable layer atop the foot enhances the comfort and support. The LOWA C4 padded tongue contours to the foot and cradles it for yet another level of cozy cool comfort. Oh yeah baby, let's not leave out the polyurethane midsole with SPS cushioning to ward against over-pronation and supination, actions that when the foot torques too far outside its natural range of motion, often lead to foot fatigue and possible injury.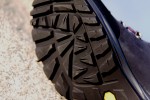 What is nice about these trekker's is the capacity to serve the feet equally well on long day hikes or lengthy overnighters with a pack on. Albula GTX offers the needed ankle support and shock absorbing suspension within the outsole and mid-sole structure to allow you to take on those alpine approached and boulder scrambles few other boots can compete with. So that was our thinking when we decided to put these Albula's on the trail.
All the trail destinations we could think of we know the creeks are crackling, larkspur are lurking, and spring is upon us. So where did we go to test these boots?  While there are limitless trailheads and hike locations to choose from for the indecisive woman, there's an equal number of boots on the market. Our take on spring gear was easy this time because there is really one super good choice to start with: The Lowa Albula GTX women's hiking boot.
When we first took 'em out of the box we figured that LOWA's Albula is analogous to the outdoor woman, stylish and sophisticated, with a big heart! And that's what they turned out to be, a solid pair of hiking boots that took a good pounding but didn't tear up the feet after a long day on the trail. This pair of Albulas made for an effortless trek up and down steep slopes, across rocky streams, plowing through muddy terrain and grassy fields.
Such were the conditions along the Santa Rosa Plateau, east of Murrieta, California. Yeah, it was one fine day before spring when a couple of us fresh air seeking women hit the Plateau trail on a mission to check out some of the fragile ecosystem and early spring flower blooms. So this is how we saw it on one particular outing that covered several miles and a variety of terrain.
Ready…
Before lacing up, one can't help but notice the soft breathable nylon cushion surrounding the mouth of the boot.  The tongue is double-padded and the double-cushioned flap at the back raises an additional distance out of the boot, extending the length of comfort up the back of the ankle.  LOWA's GTX were easy to slip in to as each nicely manicured foot made a soft, diva-like, landing into the snuggly foam footbed.  We were anxious to see how these kicks were going to treat the feet on a 15 mile round-trip journey.
Set….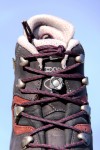 Lacing up for the walk was an easy process with sturdy rope-like, water-proof boot laces; crisscrossing several times for appropriate ankle support via secure metal hooks. Right at the ankle tops, a set of lace-hooks are especially attached to nylon loops to allow for additional flexibility in the ankle.  The boot laces fit snug within the hooks, and are easy to grip and pull while tying.  Along the upper portion of the tongue, an additional metal stud is set in place to wrap the laces around for added comfort, as this action further hugs the double-cushioned tongue to the shin.
If that weren't all, Lowa Albula GTX is all about style and color; dark eggplant sets the stage with burgundy leather trim making a guest appearance along the finer angles of the boot, creating a most pleasant aesthetic combination – us girls require proper color matching for our outfits at all times — and assured us of a correct compliment to a pair of hiking jeans.
Go!
These clever boots have a dry sense of humor.  Commencing our destination on a two-mile dirt path, perspiration was not an issue thanks to patented GORE-TEX waterproof interior linings, moving sweat away from feet and helping to reduce the chances of developing blisters. We began to feel LOWA's character acting out at this juncture, assisting in the ease of walking with beneficial Flex Fit construction. Flex Fit shock absorption allows for natural ankle movement without sacrificing stability; providing a more comfortable pace. We found it necessary to remind ourselves we were traveling with a professional boot, as this silent partner doesn't complain about the work ahead — if the feet aren't crying for mercy then neither would we. Recent rains washed away part of the trails, leaving mud and rock to compete for the trail; but, traversing through mud was  problem due to Vibram Tactis DST rubber outsoles with additional thick rubber toe and heel caps.
The thickness of the Vibram rubber outsole and LOWA polyurethane midsole base absorbed most of the hard-pack trail, rocks, and muddy waters. And those mosaic-patterned rubber sole lugs prevented any slipping in the intermittent rocks. Some areas of the path were quite washed out – our makeup was okay though — as water a foot deep in some trail centers called for a little boulder hopping. LOWA's Nubuk leather uppers and seamless/waterproof GORE-TEX lining worked great when there was no choice but to wade into shallow waters and trudge on.
Great Expectations!
While we were ready to rest and have a drink of water, the LOWA-clad feet could have kept going. Even though the Albula's felt fairly light on the feet and provided good flexibility, they also inspired this hiker to make like a tractor and go wherever she damn well pleased. Yep, that was a good feeling.
The only real hot spots we encountered with LOWA's Albula GTX were the gorgeous orange poppies along our trail. The Polyurethane midsoles held true to form, and the SPS cushioning didn't kill the buzz of a couple happy feet. Upon foot inspection, the socks were dry and free of itchy grasses, as the padded boot collar, tight knit stitching, and Nubuk leather worked well to shield the fight off acres of wet grass or unwanted dry grasses that were eager to enter the boot.
For a lighter duty hiking and trekking boot designed to allow you to carry a moderately loaded backpack over long trails, LOWA has it all with this one!  Albula GTX offered a measure of comfort, versatility of design, style and stability afoot that qualifies them for any trail we are likely to tackle in the months ahead. These boots are superb for a day hike along a muddy trail or serious weekend of backpacking and climb approaches in Yosemite. It is this writer's confidence that you can be sure when you step into Albula GTX, you are taking a step in the right direction.
Of course, you'll have to do your own research on the boot that you think is right for you and the trails you'll want to truck along like we did. The Santa Rosa Plateau is a veritable canvas of wildflowers, views and ecology; you know those girly things men are too jaded to appreciate.  Yet as the landscape and seasons change throughout the year, this LOWA boot will always remain…Spring-loaded. Yes, we liked them and would rate them in the top ten of any women's boot we are likely to review this year.
By Mary Webb
Lowa Albula GTX Hiking Boots – Women's Specifications:
| | |
| --- | --- |
| Specification | Description |
| Style | Backpacking |
| Cut | Mid |
| Waterproof | Yes |
| Upper | Nubuk leather |
| Lining | Gore-Tex waterproof breathable membrane/polyester |
| Midsole | Polyurethane |
| Support | Nylon shank |
| Outsole | Vibram rubber |
| Average weight | 2 lbs. 12 oz. |
| Average weight – metric | 1.25 kilograms |
| Crampon compatibility | Strap-on |
| Gender | Women's |
| MSRP | $280.00 |