ST-5000 Compass Watch Does A Few Things Well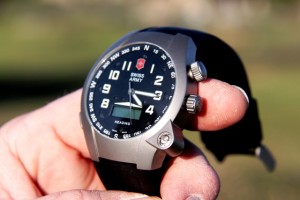 By Rick Shandley
Here's another outdoors watch from Victorinox Swiss Army you can consider for your wrist. It's the ST-5000 Compass watch built into a titanium case. The watch case is 42mm in diameter and about 13.5mm deep. A rubber wrist strap, with titanium buckle, offers a good fit on the wrist and is immediately wearable for most any size wrist. At a price point of $595, the ST-5000 has several durable and accurate functions that it does very well. These functions are precise time and accurate compass capability. We are happy there are not another half-dozen functions to this watch as it would only diminish from its simplicity.
Similar to the Dive Master 500 we reviewed recently in terms of quartz analog Swiss movement and the titanium watch case, the ST-5000 is certainly a fine timepiece. And as we mentioned in the Dive Master 500 review, you're not likely to match the light physical weight and strength of titanium. Furthermore, because titanium is hypoallergenic (won't react to your skin), this is a valid watch to consider when your lifestyle has you outdoors in all kinds of weather, you want the utility of accurate time and compass guidance, but your skin type leaves you vulnerable as to what fashion of timepiece you can tolerate. It's not like you're a wimp because your skin turns green when you wear chrome-plated pot metal watches produced with slave labor in many foreign countries, it's just a skin thing. And titanium offers a big benefit to people who have sensitive skin.
Rather than the flat surfaces of many watch crystals, the ST 500 hardened mineral crystal has a slight crown to it to minimize
reflection. Similar to the scratch and abrasion resistance found with sapphire watch crystals, this mineral crystal is also shatter resistant. At night, the illumination of the hour and minute hands, numerals, and direction arrow are readily visible when it is dark. The illumination is less visible when ambient light sources such as driving at night are present.
In addition to the watch crown for setting time, the exterior watch features, like the anti-reflection arc of the crystal, are functions supporting the digital compass. You have the compass function-switch on the lower left side of the watchcase, a bubble level on the lower right, and the compass-dial-crown on the upper right side, just above the watch crown. The compass-dial-crown can be turned clockwise or counterclockwise in order to synchronize the compass rose (dial) beneath the crystal with the green LED light indicating true north versus your direction of travel. What's nice is that the compass dial is marked in 15° increments and protected underneath the watch crystal.
This direction finding capability uses the latest digital technology to provide reliable direction finding. In fact, one of the cardinal lessons in orienteering is this: "Trust your compass." Unfortunately, this advise is too often put to the test when an individual is too disoriented, frightened, and unfamiliar with one's compass to even consider what "trust" means. And the ST-5000 Compass watch is only going to instill your confidence and trust to the degree you learn how to use it and work the compass functions. Sure, this means you must be intimately knowledgeable about how your ST-5000 works to get to the point you will trust it on your hikes and treks cross country. Having reviewed several multi-function sport and expedition watches in the past, we can't give any higher affirmation to this watch than its simplicity of purpose. You can tell the time, and you can find your way.
Even though you can figure out your direction of travel manually by reading the compass dial, a digital readout of precise compass direction is visible at the bottom center of the ST-5000. With the watch fully calibrated and set up, all you really have to do is point the 12 O' clock marker in your desired direction of travel, hold your wrist flat so the bubble-level floats dead center in the little black circle, push the compass function-switch once, and rotate the compass bezel crown so North lines up with the green LED light indicating true north. That's basically your routine.
You can also set the compass watch to keep you on a chosen heading; let' say 30-degrees north east. With this function in play you will travel with a green light to indicate correct heading, an amber light to warn you if you are going slightly too far to the left or right, and a red light to indicate you are veering too far left or right from your chosen heading. Here's where you get into trusting your compass. If you know that you walked directly north east 30-degrees eight miles away from your truck in the morning, then you need to hike about 210-degrees south east for eight miles to get back to your truck before sunset. Do you trust your compass? It happens that fast; you either have confidence in your compass and ability or you don't.
Initially, setting up the ST-5000 compass function takes a little practice to learn how to switch between compass functions. The practice comes in learning the difference between a short-push, a long-push, and how many pushes it takes to engage different compass functions on the compass function switch. But these functions are finite and you can learn them rapidly simply by using them.
Like all digital compasses, you'll start with setting the declination angle. In short, the declination angle is the difference between true north and magnetic north. We went to this site (http://www.ngdc.noaa.gov/geomagmodels/struts/calcDeclination), and plugged in our specific regional information to calculate a declination angle of 12°East. We set the 12°E by rotating the compass/watch left or right to arrive at our setting, and then locked it in with a short push of the compass function switch.
A similar drill is required to calibrate the compass. You'll short-push the function switch to get the calibration mode, slowly rotate the watch two full rotations to calibrate. Other than actually putting the compass to work, you're basically ready to use the compass. It is the relatively few functions focused on orienteering and compass use that make this ST-5000 so user friendly.
There are times you will want to recalibrate and adjust the declination angle when your back country adventure is in an entirely different region than when you initially set the watch up. You will also re-set your watch after you change out the compass battery (two batteries in the ST-500: one for time, one for compass). As for accuracy, the ST-5000 is right on par with other digital compasses that are properly set up. We backed up the direction finding capability with the Timex WS4 Expedition watch — both the WS4 Carabiner  model and the WS4 on a wrist strap; a previous generation model) as well as analog compasses and known compass points. It fair to say if you can trust your compass, you can have confidence in the accuracy of the ST-5000.
The ST-5000 is a straight forward timepiece with direction finding capabilities, enough resistance to water (50M) to ensure you can wear it in the shower, surfing, swimming, monsoons, etc. Simplicity, in this case, is the competitive advantage. If it's your first compass, learning compass orienteering requires you to invest time and practice. Learning how the ST-5000 sets up and operates also requires you to learn it well enough to use it. But once you learn how to orient your position with a topographical map, the skill is with you for life.
If there is any one additional feature we would like to see advanced in this timepiece, it would be an internal month and date feature. Wearing the ST-5000 during the week, when writing a check, or trying to figure out the Day Runner schedule, it was immediately a missing helpmate, at least in this writer's perspective, that would be recommended. It sounds pedantic at first, but if you were truly out in the back country for more than a few days, it is painfully easy to lose track of what day it is. So when the rescue party finds you and asks you "what day is it?" You can steal a glance at your ST-5000 and not quite come across as befuddled and dehydrated as your swollen tongue indicates!
PRODUCT DETAILS
Made in Switzerland with precision Swiss analog quartz movement
Titanium case (42 mm) with Caseback Screws
Shatter-Resistant, Anti-Reflection Hardened Mineral Crystal
Water Resistant to 5 ATM (50 meters/165 feet)
Digital Compass with desired Heading Memory
Rotating Compass Rose Indicating Cardinal Points (N,S,E,W), Intermediate Points (NE, NW, SE, SW) and 360 Degrees in 15-Degree Increments
5-Point Led Color Light System Shows Heading Accuracy
8-Point Led Magnetic North Indicator System
Black Synthetic Rubber Strap
Luminous Hands and Numbers
42mm case diameter
Price USD: $595.00
Price CAN: $650.00