By Rick Shandley
Kamik footwear built its reputation on extreme foot protection in seriously cold winter weather, and the Patriot 3 boot is good for the task. This pair of Kamik Patriot 3 snow boots has been on several winter trips since December of 2010.
The Patriot 3 insulated boots hit high marks on most any criteria we could assess it on for general winter activities dealing with snow, ice and slick walking surfaces. They retail for about $130.00, and for 65 bucks per foot, the Patriot 3 might be a great choice for you snowed under East Coast folk's right about now.
Kamik's Patriot 3 is available in men's sizes 7 to 14. Our test pair was a size 14, and can attest the size ran true to product description. Some boot manufacturers tend to run their sizes small, which is a huge disappointment that we experienced with another brand of well regarded snow boots.
With the correct size snow boot, and ample room for a cozy pair of wool socks, these Patriot 3 boots are unquestionably warm even
when you stop moving. That's a critical characteristic this writer looks for with any insulation gear. While you are moving and burning calories, the entire body gets heated up from the tips of your fingers to the tips of your toes. But it's when you stop moving, after grinding out a couple miles in snowshoes or shoveling snow of the walk ways when extremities chill down quick.
We loaded up these Patriot 3's on a pair of Crescent Moon Golden 10 back country snowshoes and had a blast with them both. At first, it wasn't clear whether the Patriot 3's would fit properly in the Crescent Moon bindings; a consideration you'd want to answer for any understandably bulky insulated winter pack boot. Well the snowshoe bindings are well thought out and accommodated the U.S. size 14 Patriot 3 boots. The combination was more than enough to make us feel aplomb in the snow.
Built with waterproof full-grain leather, the Patriot 3 is constructed with sealed waterproof seams throughout the uppers. Although we have only had these boots since early winter 2010/2011, the workmanship appears to be very high-quality with regards to the multiple passes of heavy-gauge stitching, leather quality, and absence of loose threads and jagged seams.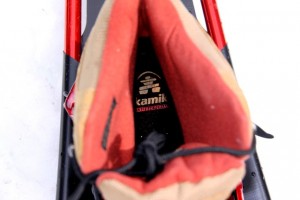 Insulation for the Patriot 3's is a fixed 400B Thinsulate Ultra Liner. The 400B Thinsulate liner works with moisture wicking lining to manage perspiration, and Kamik Comfort Antibacterial EVA foot bed manage foot odor. This anti-microbial treatment is built into the EVA foot beds to continually mitigate bacteria and fungus odor. It's not your feet that stink! It's the fungus your feet cultivate — like a hydroponic garden — that people find offensive.  It's OK, we understand.
EVA footbed material is pretty much considered best-practice for most all the best-built boots across all categories on the market today. Noting that any boot you might consider uses EVA footbeds for their shoes is a good indicator that little has been left on the table as far a quality components used in construction.
Were the rubber meets the snow and ice, the Patriot 3 is shod with Kamik's TRIUMPH IceClaw outsoles with self-cleaning, non-slip lugs. Well, non-slip is a subjective event that depends on the actual surface and the person wearing the boots. In deep, fresh snow, the outsole pattern of traction cleats does a good job of self cleaning. This is due primarily to the space or voids between the traction lugs. And the rubber compound used for the outsoles is made of rubber compounds that do tend to offer good traction on icy surfaces. Yet, make no mistake, ice is ice, and a misplaced step or shift of body weight can send you to the ground regardless of the type of rubber your boot soles are made of.
For boots that really can facilitate many winter activities where you'll need to navigate icy parking lots or ice-encased trail routes, it
would be nice if crampon slots were to be included in the toe and heel sections of this boot. It's certainly not a distraction from their intended purpose, which is to protect your hooves in winter wonderlands around the world, but it would up the range of uses.
From the outsoles, a flexible (even in freezing temperatures) and waterproof rubber outer shell creates a nice bumper that fuses the outsoles to the boot uppers with barrier that ties the whole boot together. It's a sturdy package. These Kamik Patriot 3 boots are ones you can put some level of trust in, especially on overnight ventures into snow country.
Although, these boots weigh in at about four pounds each, they are built as only a snow-pack boot intended for below-zero operation can be. We do not mind swinging these warm, comfortable, and weatherproof pendulums in a swift walking gate along a snow-bound roadway. They are sturdy, and designed to protect your feet in wicked cold climates. That's a huge benefit to consider, and one we appreciate. Sometimes gear weight is immaterial when contrasted with the job it's designed to do. If you can't handle extra weight on your feet, get stronger. That down-parka you'll be wearing is not in style at Venice Beach any time of year, but it's a lifesaver in Fairbanks, AK on a winter's night. Everything has its purpose.
The Patriot 3 stands about 11 inches tall. That works really well with mountaineering pants that have integral gaiters to keep the snow out of your boots. And for most uses, keeping the snow out is not a big problem if you're shoveling snow or chopping firewood, but it would be nice to see these Patriot 3's with built-in boot collar gaiters to keep fresh snow out of the boot. It's not a gripe, so much as a feature that is always nice to have.
Nonetheless, the insulated and gusseted boot tongue folds very nicely into the laced up boot and forms a snug fit at the tops of the padded collar.  All the Patriot 3 speed-lace eyelets are rustproof and strong. Even the laces themselves are hardy cords that allow you to pull 'em up tight, and lace them up in frigid conditions with gloved hands.
Color is Coffee like the pair in these photos.  No worries, these Patriot 3 winter boots have been comfortable and warm to the degree that keeping the toes from going numb was never in question; but a condition one can never take for granted in any boot. Yes, we can highly recommend the Kamik 3 Patriot winter boots for anyone searching for your next pair.