By Rick Shandley
Information is what the Suunto Ambit2 Sapphire is about. Ambit2 Sapphire is a high-tech and multi-talented GPS watch for any activity you train for. The difference between the Ambit2 Sapphire and the balance of the Ambit2 lineup is the watch crystal is made from the highly abrasive resistant sapphire and the brushed stainless steel bezel. The MSRP ranges from $500 – $650.
Serious athletic training output and data organization are what the Ambit2 Sapphire excels at. It gathers training data, then outputs statistical and graphic information that you can use to document your training progress.
Because this piece is more complex than a shirt or pair of boots, I lived with this GPS watch for several weeks before even looking at it from a critical viewpoint. And I'm happy I took some time to get to know how capable and accurate the Ambit2 Sapphire is. Used as a no-nonsense training aid, the Ambit2 Sapphire will excel in most any athletic use you can apply it to. You can choose the specific sport you participate in and tailor data to your activities. Ambit2 Sapphire also works with a heart-rate monitor that attaches around the athlete's chest, and is available as a separate accessory.
Setup is quick and almost intuitive once you get to know the basic functions and modes you will be using. The functions I used most where the Trekking, Mountaineering, and Other Sports to chart times, elevations, and distances. Other primary activity functions include alpine skiing, triathlon, running, indoor swimming, outdoor swimming, indoor training, and cycling.
For each main category of exercise, the Ambit2 Sapphire digitally records your progress with the most relevant information you can use to improve your performance. For example in the Mountaineering mode, your vertical accents, descents, distance, and times are charted on a graphical image you can view on the Ambit2 Sapphire screen. Once you have completed your training session, hike, or swim, you can save that exercise session and clear the screen for your next activity. But you don't have to discard any of your training data stored on the Ambit2 Sapphire to create more memory space throughout the life of the instrument. Instead, you transfer your training data directly from the Ambit2 Sapphire to a remote site.
Each training session, or series of sessions, can be downloaded onto a dedicated support website called MovesCount.com. Movescount.com is a support feature that comes with your investment into an Ambit2 and any of the Suunto Ambit performance watches. Movescount.com is where all the vital statistics of your training run, hike, swim, etc. can be downloaded onto your personal online account to build a portfolio of data you use to improve performance.
You can share your MovesCount.com data with other people that are interested in your progress, and you can download Suunto Ambit2 Sapphire updates so you always have the latest technology. This data sharing capacity that movescount.com offers makes the entire Ambit2 system a great way to keep a training coach and certain people informed of your training progress. Since your energy output is tracked each session into a statistical form, your fellow team mates and coaches can give you feed back and encouragement on your training efforts.
Functions such as Altimeter, Barometer, and Compass are super quick to set up and use. You'll have a choice between manually inputting platform information such as a known elevation, or you can use GPS capabilities and "Fused-Alti to automatically give you fairly accurate positioning and altitude information quickly. To be more objective, we did note there where discrepancies between the digital capability of the Ambit2 Sapphire and other analog altimeters and posted summit elevation points. However, the accuracy of GPS, even the civilian form, is hard to beat. So we have no objective way to determine posted elevations are more or less accurate than satellite measurements. The compass function is dead on and agrees with analog compasses point for point. Long as you have battery life, you have a very accurate and capable training aid in the Ambit2.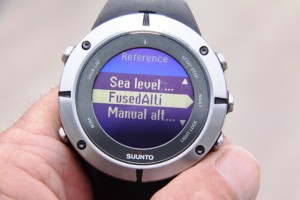 Battery life was, at first, a concern I had in the evaluation of the Ambit2 Sapphire. At first, the battery would discharge quick. And several times I lost all the data collected from different hikes and activities because I let the battery zero out. Once the battery is exhausted, so goes any stored data you have accumulated as far as we could tell. No doubt, for the first two weeks, every button was pushed many times just getting to know all the features the Amibt2 Sapphire is capable of.  However, just like a computer battery set, there is a learning curve a battery goes through in order to build up the charge-life it is capable of.
As we focused on the few activities, the battery charge got strong and stayed strong. At first the battery would only last for a day before it had to go back on the charger. Once the battery built up capacity, the time between necessary charges extended to 48 hours or more. Overnight trips are doable, and you can do extended training sessions of more than one day.
Charging the battery is a dedicated system that requires a USB port and computer to charge the Ambit2 Sapphire. This system is also the tether for uploading your training sessions onto the movescount.com website. A lobster claw-like charging jaw clamps over the Ambit2 Sapphire bezel at the top, and secures the lower jaw onto a four-pointed charging dock on the bottom of the watch.
Battery life is the only real objective observation I can question. But this objection is stifled when you take into account the Ambit2 Sapphire is not designed as a general consumer device. It is a high-performance training instrument that requires a level of understanding and commitment from the owner to get the best results the Ambit2 Sapphire is fully capable of delivering.
All in all, what I experienced with the functionality and accuracy of the Suunto Ambit2 Sapphire, we think it is an awesome training instrument. Aesthetically, the Ambit2 is good looking enough to wear every day, all day. But take note: you have to know where your battery level is at, or you risk losing your stored data and have to go through set-up again — which is easy but can happen at an inopportune time. It's not a bad thing, but a factor you might consider. So you might ask yourself: Am I a serious athlete training for all I'm worth? If not, Ambit2 Sapphire may not be a practical choice. If your answer is "Yes," then the Suunto Ambit2 Sapphire is what you need.
Even though the Amibt2 Sapphire has a large case and bezel, it's not out of proportion to its function, looks great on the wrist,
but has enough screen space to display graphics adequately. It weighs little more than 2.5-ounces, and the wrist strap is robust and comfortable enough to wear in all weather, all day long. What we have most confidence in is the range and accuracy of the functions the Suunto Ambit2 Sapphire offers the serious, hard training, athlete. The Suunto Ambit2 Sapphire can be an invaluable training device that gives you interactive capability few other wrist top computers can offer. If you just want a fancy looking watch with a lot of complicated buttons, then there are tons of poseur watches that will match your fashion conscience taste for a fraction of the price. The Ambit2 Sapphire is essentially a purpose-built device that only a true competitor can appreciate.
Suunto Ambit2 Sapphire Specifications and description of multi-sport and multi-functionality:
Measurements 1.97 x  1.97 x  0.61 "
Weight 2.54 oz
MSRP: $500-$650.00
Time, date, alarm, dual time
Multiple UI languages (EN, DE, ES, FI, FR, IT, NL, PT, SV)
GPS timekeeping
Positive / negative display switch
User-adjustable backlight
Versatile button lock
Low battery indicator
Metric and imperial units
Power save modes
Adjustable recording of HR and baro/alti (1 s, 10 s)
Data transfer and charging with USB cable
Watch settings & customization*
Advanced post-analysis of exercise*
Training logbook with story and image support*
New functionalities with software upgrades*
TRAINING
GPS-based speed, pace and distance
Real-time, average and max. heart rate
Calories
Heart rate limits
Heart rate graph in real time
Peak Training Effect & Recovery Time
Manual & autolaps
Chrono
Countdown timer
Interval timer
GPS track analysis*
Heart rate zones*
EPOC & V02 max values*
MULTISPORTS
Swapping of sport while logging and exercise
Preconfigured multisport modes
Sports comparison*
Post-analysis of multisport exercise by sport*
Interactive map and charts by sport/section of an exercise*
ANT+™ and Suunto ANT support for PODs