Leather Lined and Immensely Comfortable
By Rick Shandley
Look to LOWA Renegade leather lined (LL) mid-high hiking boots for exceptional comfort, traction, and durability that will last. The LOWA Renegade series is one of their best selling light hiking boots worldwide. And there's a strong case that can be made for the popularity. The leather lined version of the LOWA Renegade is yet another testament to that popularity.
For so many folks who enjoy hiking and trekking, they don't need a true mountaineering boot nor a purpose built backpacking boot designed for heavy packs over long distances. The LOWA Renegade Leather Lined hiking boot fits this application like few other boots can. Renegade's work great for moderate pack loads you might carry for an all day assault on a 14,000 ft. peak or a swift trail truck that'll have you bivouacking overnight to catch meteorite shower or an eclipse of the moon.
Last year we reviewed the LOWA Renegade GTX, lined with GORE-TEX (the GTX designation), and have put many trail miles on them. Having experienced a stable-mate of these leather lined LOWA Renegades, the LOWA Renegade GTX version, this writer can attest to quality and durability of these European crafted hiking boots. It's a great formula to expand on because the Renegade series have the appropriate shank stiffness, ankle support, and the kind of cushioned comfort that compels one to wear the boots in everyday life, hiking or not.
And by way of explaining what it's like to, once again, wear leather-lined boots that offer the natural moisture control, ventilation, and sheer comfort, allow me to share a little background: The very first pair of mountaineering boots I ever owned as a youngster in the 70's was a pair of LOWA Matterhorn boots with the exact same leather lining. Doug Kittredge Sporting Goods in Mammoth Lakes, CA is an outdoor retail store that only sold the best backcountry gear they could find, and the LOWA Matterhorn's where one of the best backcountry boots they carried. Well, I bought my first pair of LOWA's at Doug Kittredge's shop, and still remember the quality and glove-like comfort they offered to this day.
Shift up to the present, and I can tell you the quality and comfort of the LOWA Renegade mid-high hiking boots with leather lining remain true to the decades of boot making LOWA is well known for.
The leather lining used in the new LOWA Renegade LL Mid boot is literally like slipping your feet into soft leather gloves…if that were possible.  As far as I can tell the smooth cream colored leather is precisely what I remember it to be many years ago now. Thrusting a foot shod with Marino wool-blend, medium thick boot socks into the leather lining of the Renegade will be a new, very cool, sensation for any hiker who has never experience the luxury of supple, cushioned, leather.
No kidding. It's like you have just bought a new experience for your feet. But be warned. After you are laced up and underway on the trail, these new LOWA leather lined Renegade's might just flip you out, in a good way. We'll get to all the other attributes of these hikers in a bit. So bear with me, we're not done talking about the leather.
Adding to the natural breathability of the leather lining, the Climate Control foot bed is also breathable and adds another layer of cushion to your feet. Taken together, the outer Nubuk leather boot construction and leather lined uppers make for a rugged combination. The leather lining absorbs moisture and directs it away from the skin to keep the feet dry, making for a comfortable and quite sturdy boot.
This inner lining leather is not dyed. It's purely natural. The leather lining of the Renegade mid-high hiker is not treated in any way. This leather can breathe because the pores remain open; nothing chemical or wax-based is clogging those pores. How does that affect your comfort and the ability of the Renegade to manage moisture from your feet and ambient environment? Well, this leather can absorb up to 200-percent of its own weight. That leather lining is soft cowhide nappa leather that hails from Germany. It's the kind of leather you'd expect to see covering the bucket seats of a jet black Porsche Mega-Turbo Carrera. If it adds more weight than a similar-duty synthetic fabric, we'll take the leather when we can.
The nappa leather ranges between 1 to 1.5-mm thick, and presents as a consistent, unblemished, cream-like color throughout both boots. That's a nice thickness for the leather lining because your feet feel like their encased in comfort. And you sense something pretty stout on the boot's uppers and overall boot construction that make this Renegade series so well received by so many hikers when they discover LOWA's offering.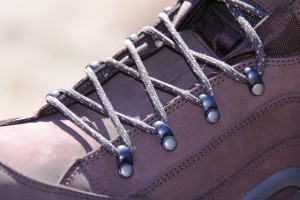 Uppers on the LOWA Renegade LL is constructed of Nubuk leather, a term to describe soft, high-quality, rawhide that is treated to sanding to create a velvet-like finish. This Nubuk leather upper construction is the shared amongst each the of the leather-upper versions of LOWAS Renegade whether they are the leather lined ones in this review or the Renegade GTX version lined with GORE-TEX. Having experienced the durability of the Renegade GTX model mid-high boots, I can tell you the leather is tough and doesn't scuff up as readily as other leather grades used in boots.
Midsoles on the Renegade LL's are a new Polyurethane Monowrap Frame design that result in a lighter overall boot weight. The Monowrap Frame construction also provides a sturdy foundation, with solid lateral support, for the entire boot. Along with the more rigid support of the full nylon shank, the Renegade offers a trail boot that ensures excellent foot and ankle protection in terrain, including under moderate pack loads on rough terrain, when there is the potential for twisting motion applied to your ankles. When they are laced up, and you are making your way along your compass heading, these Renegades become a part of your feet, not an attachment to your feet.
Traction is great. The Vibram Evo tread pattern has got to be close to the bite you would expect from a tiger shark, except these teeth bite the earth beneath your mortal feet. On slick, rocky, terrain, the Evo pattern uses a modified ripple sole pattern at the toe pad and at the outer edge of the heels. This ripple pattern gives you bite on ledges, rock edge, and uncertain traction contact points when you are scrambling up rock structures using both hands and feet. This toe-hold capability is aided by the welcomed rigidity of the shank and midsole. Large-lug cleats on the perimeters are directionally positioned forward to give awesome forward bite.  The voids between the sole lugs are largely self-cleaning when you are traipsing along in wet, spring snow, muddy, or soft-earth terrain. But if momma says "take your shoes off in my house." Obey.
Extending from the outsoles are rubber rock bumpers that rise up to protect the lower portions of your feet, toes, and heels. This is a feature often out of mind until your foot dashes upon a stone and you realize there was a barrier between your fragile foot that absorbed the blow. That's what this modern construction design is good for, taking that unintended blow to your foot and absorbing the shock before it injures the foot and causes you to squeal like a sissy.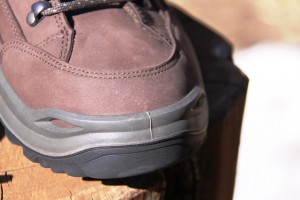 Lacing up the LOWA Renegade LL mid hikers is a sure thing. The boots feel snug and well cushioned right away. And like the Renegade GTX model, these leather liners required zero break-in time. The boots are good to go right out of the box. Of course every individual is different, so take a few days to romp around in them to make sure they are going to be "No Drama" as they have been in my experience with them.
These boots where worn in Northern Colorado on several all-day hikes that can be described as walking timber, following compass points only, and on private land where there are no trails except game trails. The terrain is often a combination of rocky, timber-heavy canyon country where the ground is a constant steep uphill or downhill affair. Traction was vital, and these boots delivered it.
Also these Renegades where worn on steep, rocky, public land and U.S. Forest roads/trails following a designated path. In every case, the LOWA's were flawless. Few boots I've ever had the opportunity to test are as immediately glove-like comfortable as these LOWA Renegade LL boots. The last pair I recall as offering that kindness to my feet where the first pair of leather lined boots I owned. Welcome back.  At a suggested retail investment of about $225.00 U.S. this is a hiking boot you should experience just so you can say you did. "You're going to like the way your feet feel. I guarantee it," to borrow a George Zimmerism.