Swiftwick's Sustain One is a super, lightweight compression sock that offers a higher level of performance for the trail runner.
By Dan Sanchez
We tried the Sustain One on a couple of short, three-mile trail runs. Compared to other low ankle socks we've used, the compression provided by the Swiftwick Sustain sock gave us noticeably greater endurance. Our feet also simply felt better after the run. No aches or wishing some cute Swedish blonde masseuse would rub our feet for an hour. Okay…maybe we'd still like that last one anyway.
We were at first skeptical on how well the sock would perform on a trail run because of its lightweight and thin appearance. Although the Swiftwick Sustain had less cushioning than socks we're used to running in, it didn't seem to play a big factor in our running performance.
The Swiftwick Sustain is made from the company's Repreve recycled nylon, 30-percent. The rest is 51 percent nylon, 15 percent Olefin, and four percent Spandex. The sock, and company, is very earth friendly and is manufactured in a way that reduces energy use, water consumption and greenhouse gas emissions.
The Sustain features a sculpted foot bed that is very form fitting, but doesn't feel too tight or constrictive. The seamless toe construction greatly reduces the chance of blisters and the Y-heel contour keeps the sock firmly in place without movement. Lightweight cushioning along the toe and heel does help absorb some impacts, but you almost feel like it's not there. The Sustain also has anti-microbial properties and wicks away moisture very quickly.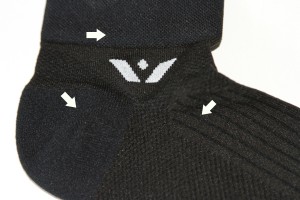 Compared to other Swiftwick compression socks, the Sustain offers a little more than half of the compression other socks in the company's line offers, (a 6 on a scale of 1 to 10). It's available in a variety of lengths that start below the ankle, all the way to full calf. We like the ankle length (Sustain One) because the wide top band keeps out dirt and debris when running on the trail. If you like to run on a treadmill or on the street, the below ankle length (Sustain Zero) would also make a great choice.
The Swiftwick Sustain compression socks start at $12 to $17 per pair, depending on the length. They are only available in white and black. For more information, visit www.swiftwick.com.