In Memory of Marc Alan Lee, the Benchmade "Glory" Knife!
By Rick Shandley
"Glory is something that some men chase and others find themselves stumbling upon, not expecting to find them. Either way it is a noble gesture that one finds bestowed upon them." That's what Marc A. Lee wrote sometime before leaving for Iraq. Lee was the first Navy Seal since the Iraq war began in 2003 to sacrifice his life in combat. He lost his life on August 2, 2006. Lee wrote the above in his "Glory Letter," a final note he would leave behind for his loved ones and fellow operators in the event he had fallen in combat.
Lee was a team member of the Navy Special Warfare unit focused on counter-insurgency, who displayed extraordinary valor, leadership, and self-sacrifice. To protect his team members, Lee was compelled to directly stand in the line of insurgent fire on three different occasions on the same day.
It was Lee's exemplary character which inspired knife designer Eddie Killian and Benchmade Knife Company to create a combat-ready survival knife to honor Petty Officer Second Class Marc Alan Lee. In its purity of purpose and function, the Marc A. Lee Glory knife is also a blade accessible to many members of the U.S. armed forces use today in the theaters of Iraq, Afghanistan, and around the globe.
Benchmade Knife Company out of Oregon City, Oregon stepped up to produce the Marc A. Lee Glory Knife to not only honor one fallen SEAL, but to provide a cutting-tool to soldiers, sailors, airmen, and Marines who require a blade they can count on when there is no one else to rely upon but themselves.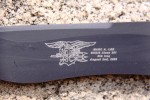 This is a fixed-blade, full-tang tactical/survival knife with a 7.3-inch cutting edge. That is, the entire knife is one continuous component (full-tang) made from 154 CM Stainless Steel and hardened to 58-61 HRC, roughly the metal hardness required for heavy-duty cable shears.
Overall length is 12.5-inches of sculptured blade work from the edge tip to the cross-grooved pommel point at butt-end of the blade. Just above the termination-pommel, which can be used for any reason requiring hammer blows, a lanyard hole makes for a convenient lashing point.
Grooved handle grips made of machined G10 composite material create finger-channels that fit securely in the hand whether the re-curved blade is held edge-up or edge-down.
You'll notice the handle grips are removable. As a survival knife, the owner may have reason to remove the grips for cleaning, no-bulk low-profile concealment, or lashing the blade to a six-foot length of bamboo or wood-stave to create an emergency spear. Regardless of the potential uses for this blade, it appears well suited to the many applications its owner may require of it.
Multi-function not only describes the overall usefulness of the Marc A. Lee knife, with a total weight of 10.10-ounces, but it describes the MOLLE gear compatible soft nylon sheath. The sheath is equipped with a composite sheath liner to protect and contain the blade edge. It has multiple adjustment points using Velcro fasteners, metal clips secured by Velcro back-up fasteners, and lanyard chord at sheath tip for attaching to the leg.
This Marc A. Lee "Glory" knife has been on most every back country trip since we took delivery of it late in 2009. At slightly more than 10-ounces in physical weight, it was worth it whether it was stored inside a backpack or externally attached to web-gear. Although designed as a combat knife, this blade offers a myriad of uses in backcountry applications. It's not limited to applications where a soldier, woodsman or wilderness trekker might call only upon it to sever rope, cane, wood, or flesh. It's simply a sturdy fixed-blade knife designed serve in the present days. It's to remember Marc, or to gift a nephew who just earned his Army Ranger tab or Navy SEALS breast insignia. It's also an heirloom that can be handed down from generation to generation without ever losing its edge-holding capability, beauty, or functionality. This knife will last as long as Marc's memory and the legacy of the U.S. Armed Forces in general. This blade is not confined to any branch of service or individual. It's like that Calvary sword your grandpa allowed you to see and touch, just one time. It has more meaning than the many custom combat knives reviewed by the niche-market newsstand knife magazines. But it remains every bit the cutting tool it was designed to be… a combat knife.
We've learned that a portion of the proceeds for each Marc A. Lee Glory knife Benchmade sells goes to the Marc Lee Glory Foundation, an organization devoted to keeping the memory of Marc and every Navy SEAL from being forgotten, and to provide scholarships.
You can learn more about the Marc Lee Foundation at: www.marcleefoundation.org
Marc A. Lee Glory Knife Specifications:
Blade Length: 7.30″
Blade Thickness: 0.190″
Blade Material: 154 CM Stainless Steel
Blade Hardness: 58-61HRC
Blade Style: Re-curve Blade, BK1
Weight: 10.10oz
Clip: Sheath
Lock Mechanism: Fixed
Overall Length: 12.50″
Closed Length: 0.00″
Sheath Material: Multi-Function Soft Sheath, Nylon, MOLLE® Compatible, 4.20oz (119.06g)
Class: Black
Made in: U.S.A
MSRP: $350