Therm-A-Rest's NeoAir sleeping mattress is one of the latest products in the Cascade Designs Fast and Light Series. We had the opportunity to use the NeoAir in the field on several trips and can recommend it for several reasons.
First off, the NeoAir is compact. It rolls up small and fits into the Cordura stuff sack tight enough to share the same space with your sleeping bag in backpacks that offer sleeping bag compartments such as the Lowe/Alpine Cerro Torre TFX series packs, the Kelty Trekker, and several other high-end backpacks. Secondly, the NeoAir weighs less than one pound at 14-ounces, and because of its small pack size, you don't have to lash it down to the outside of your pack.
If small pack size and light weight where all the NeoAir had going for it, that's reason enough to give it serious consideration. The NeoAir mattress we tested was only available to us in regular size measuring 20 inches wide and 72 inches long.
Although we wanted a longer version for our test (to fit the person testing it), we were informed by the folks at Cascade Designs the manufacturing machines were running at full capacity just to keep up with the demand forecasts for NeoAir. And that's good news for any outdoor gear manufacturer in this, or any, economic circumstance. No worries with us, we were happy one was available to review.
Once you're ready to deploy the NeoAir at the campsite, you merely roll it out, open the air-valve and inflate the mattress. The air valve worked fine, and the time it takes for the mattress to inflate didn't take long at all. If you want more firmness, increase the air volume. At higher elevations, such as anything above the 7,000 foot level, you might consider taking your time adding air to the mattress.
On one trip, above 11,000 feet elevation, the task of blowing full, repetitive, breaths to get a firm mattress was enough to get a bit dizzy. But that's a human function, and everybody has different levels of acclimation and physical response to altitude. To dial-in the right firmness, we'd get the NeoAir fairly full of air, lay down on it, then let air out until it reached that sweet spot with enough give to feel cushioned, and enough firmness to keep the body off the tent floor.
The ability of the NeoAir to quickly inflate is impressive. However, if you plan on any extended trips where freezing conditions will be the norm, then keep in mind that the moisture in your breath will tend to collect within the mattress and freeze, scrubbing away some of that ever so highly valued light weight. In really cold weather, it's a good idea to transport the mattress in your pack where it is close to your body heat.
Essentially the NeoAir is considered a three season sleeping pad. It is uninsulated, but uses patent-pending reflective barrier to minimize heat loss. Because this reflective barrier reduces heat loss and permits warmth to return to your body, it registers an insulation rating of R-2.5 out of a maximum R-8. This insulation value can be increased to 3.8 by using a Therm-A-Rest Z-Lite mattress underneath the NeoAir.
Like the weather in general, changes in outside temperature and barometric pressure will affect the inflation of the mattress. When you're base camping or leaving the mattress inflated during a hot day it's a good idea to partially deflate your mattress so your NeoAir doesn't fall victim to expanding warm air and become over-inflated. On every trip we used this mattress it was inflated at night and deflated the next morning for another day on the trail. To its credit, the NeoAir took no extra time or thought packing it up for each day. The Cordura stuff sack is sized just right, even allowing you to goof up on a couple roll-ups and still be able to get the mattress into the stuff sack. Let the air out, fold into thirds lengthwise, roll it up, and slip it into the stuff sack. Nothing more, nothing less; you are done with it.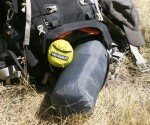 The small size of the rolled up and packed NeoAir makes it easy transport in your backpack with or without a designated sleeping bag compartment. It's just as convenient to pack the NeoAir in your main backpack compartment along with your stove, cooking kit, clothes, and food.
Because the NeoAir is constructed of super-light materials, human carelessness or an undetected sharp object may occasionally result in a puncture. Stuff happens. The good news is that a Therm-A-Rest Fast and Light Series repair kit makes any patchwork relatively trouble free. We did not experience any failures, punctures, or lack of comfort in our nights in the field with this sleeping bad. The perceived characteristics of a very-light and compact sleeping pad capable of provided good support and comfort over quite a few nights in tents consistently held true for the NeoAir.
We've heard some concern's from people who thought the NeoAir is too narrow. Certainly this may be a valid criticism in a subjective context. Again, each person is different. Yet, we were using a Sierra Designs Arrow Rock 30 down sleeping bag with mattress retainer straps on the bottom of the sleeping bag. The NeoAir fits perfectly with a sleeping bag using retainer straps. We did not experience rolling off the mattress, and found the mattress itself provided plenty of support and comfort. Sure it would be great to have a few more inches of width and length, but that also means a tradeoff in weight and compactness. At retail, the Therm-A-Rest NeoAir is available in long, medium, and short lengths with the price ranging from $120 to $170 depending on the length you choose.
Overall Assessment:
On a trip to REI to pick up some gas canisters, it was inevitable to take a few laps of the store and check things out. Knowing the NeoAir was on the table for a review, we strolled over to the section where all the sleeping pads lurk, hanging full size or rolled up and vacuum packed.  When a REI store associate came along to see if any help was needed, we just asked if they had any of the new NeoAir mattresses we might take a look at. He pointed to the bottom bin of one of the display racks, and there sitting all by itself was one unit of the new NeoAir looking small and bright yellow. When asked how much it costs, he went over to the computer and looked it up. "That's about $149," he said. "And I guarantee you it won't be there after this weekend. It's a great little sleeping pad and I'm interested in getting one for myself."
Well, after using the NeoAir and sleeping on it enough to know whether it will do the job in comfort, it's a sure bet that good things do come in small packages. Usually, there's not a ton to say about a sleeping pad. But the NeoAir is a transformative little cushion that serves its purpose while taking up minimal space in your pack. We liked it a lot.
By Rick Shandley
Cascade Designs
4000 1st St. Ave. South
Seattle, WA 98134
1-206-505-9500
www.thermarest.com
THERM-A-REST NeoAir
Cordura – Fast and Light Stuff Sack – regular size.
Part of Fast and Light Series
Regular size as tested: 20×72 inches
2.5 inches thick (or 6.3 cm)
Warmth Rating: R-2.5 out of R-8.0 maximum rating
Recommended: Three Season sleeping pad
Weight: 14oz (410 grams)
Innovative materials create an ultralight, ultra-compact mattress.
Warmth: Three times warmer than other uninsulated air mattresses due to patent-pending thermal (yellow) barrier.
Superior stability and comfort using patent-pending Triangular Core Matrix.
Made in U.S.A.