These products below represent some great outdoor gear that can lead you to finding products that work for YOU! Consider this Buyer's Guide a starting point that you might get some ideas from.
This buyer's guide offers various products that can be an asset in the back country, but also practical gear that you can use on casual weekends.
If you see a product you like, all you have to do is Google it on a separate tab and "Poof," there's plenty of sources you can price shop and order from.
GSI Crossover Kitchen Kit
The Crossover Kitchen Set completes the circle of cookware by providing the tools needed to cook, spice, clean-up and store using the gourmet nesting systems above. The kit includes a cutting board for food preparation; Pivot Spoon, Spatula and Tongs for cooking; squeeze bottles and spicer for eating; and a scraper, scouring pad and camp towel for cleaning. A half moon shaped storage bag nests into the cook kits for transporting. The Pivot tools are exclusive to GSI Outdoors. They use handles that deploy quickly and, unlike competing compacting tools, are easy to clean. The Pivot Spoon's included gradations make recipe preparation easy. The Pivot Spatula's tapered edges and a serrated cutting edge make frying and flipping and portioning effortless. The Pivot Tongs have reinforced handles and high-temperature Nylon 66 construction eliminating the floppy collapsible tools of competing products on the market. MSRP: $37.95
Teton Gravity Research Presents
One For The Road
TGR's award-winning producers present their newest film, One For The Road. Shot on location, prepare for a visually stunning voyage generated with Phantom, Red, Canon DSLR and GoPro HD footage. Join the athletes as they rock a record breaking season in Jackson Hole, immerse themselves into the culture of Japan's powder mecca Hokkaido, discover Iceland's urban side, explore the Balkan wonders of Macedonia and Montenegro, shred deep pillow lines at Baldface Lodge, uncover first descents in Pemberton, BC, and hit full throttle lines in the perfect snow and weather of Juneau, AK.
LOWA Baikal GTX Winter Boot
New! This highly insulated, multi-purpose winter boot covers the gamut from winter hiking, trekking and snowshoeing.
Constructed of top quality suede leather and Cordura®.
Features an ultra-warm and waterproof, GORE-TEX® lining insulated with Panda fleece.
LOWA's exclusive new G3 sole unit with supination/pronation support and PU midsole provides maximum grip on snow and ice.
This innovative sole unit has embedded loops of texturized fabric in the rubber lugs to enhance grip on icy terrain.
MSRP: $280
Marmot Randonnee Glove
Tough leather reinforcement, Primaloft® insulation and the industry's best GORE-TEX® insert have made the Randonnee our most beloved glove among skiers and guides. MSRP: $100
Mountainsmith Dog Packs
With more than 30 years of experience making dog packs, we have updated them for Fido's next season in the backcountry. A fully adjustable three-point padded harness system insures a comfortable and stable fit as your best friend runs just far enough ahead of you to make you wonder if he still likes you. The fresh design deploys a newly tapered torso shape to reduce drag and increase balance to follow the natural way your dog moves along the trail. Price range: $50 to $60 depending on size of your specific four-legged best friend.
Fishpond
Gift your special person to their next adventure with the new Sporting Club Collection Carry-On Overnighter from fishpond. Yep, that next business trip to Dubai will be that much easier to stomach with this slick dual-purpose carry-on. The waxed cotton canvas Carry-On Overnighter has hidden backpack straps to facilitate running to catch a plane, an adjustable, removable shoulder strap and thick handles to have a multitude of carrying options. The main compartment opens flat for easy packing and features a zippered compression compartment. Two additional zippered compartments help keep everything organized. MSRP: $189
GSI Glacier Stainless Ketalist
The GSI Glacier Stainless Steel Ketalist kit is a great example of thinking through the process of design and versatility. Outdoors cooking can be a challenge unless they actually solve the issue of being compact and lightweight. The Ketalist is a solution.
Classic, low-profile design provides the capacity of a one-liter ultralight boiler in the easy-to-pour profile of a tea kettle for boiling water or melting snow oover camfires or coals. Convenient folding handle locks into place when boiling to save your finger tips from burns.
Unique bowl + mug solution with low center of gravity and Sip-It lid virtually eliminate spills while the insulating sleeve keeps your drinks hot. Stuff sack's nylon bottom panel and short sides help to keep soot and char off your clothes and other gear. From GSI Outdoors Products. MSRP $32.95
Benchmade Osborne 940 Folder
If you are looking for a special gift only a few people will own, consider the Benchmade 940 Osborne folding knife. Only 300 of these Benchmade 940's are available. Here's some features that make it a tool that will last a lifetime.
AXIS® locking mechanism
S30V premium stainless steel blade (58-60HRC)
Black anodized 6061-T6 aluminum handles with 420J stainless steel liners
Ambidextrous Dual Thumb-Studs
Modified reverse Tanto blade design
MSRP: $225
Advice From…SAGE!
For adventure trips, there's nothing better than having a super durable backpack that keeps water out and everything inside organized. Sage's DXL Typhoon Backpack has fully welded construction and water resistant zippers which is ideal to keep everything inside dry no matter the weather. The contoured, padded shoulder straps and mesh water bottle pockets, make this pack comfortable and functional. MSRP: $225
Hobie Revolution 11 Kayak
Whether it's a day of casting, paddling, pedaling or sailing, Hobie's brand-new Revolution 11 has you covered. Modeled after her bigger brother – the Revolution 13 – the "Revo 11" features a slippery-yet-stable hull form, Hobie's innovative MirageDrive system, generous stowage and lashing configurations and an optional sailing kit, giving you the ability to go.
The Revo 11's featherweight hull accelerates now and her nimble-minded design and impressive turning radius allows you to adroitly stalk fish and confidently negotiate persnickety shoals or currents. Ideal for small-to-midsize users like your 12-year-old son who needs a diversion from his incessant focus on physics. MSRP: $1,749. and up.
Gerber Ultimate Knife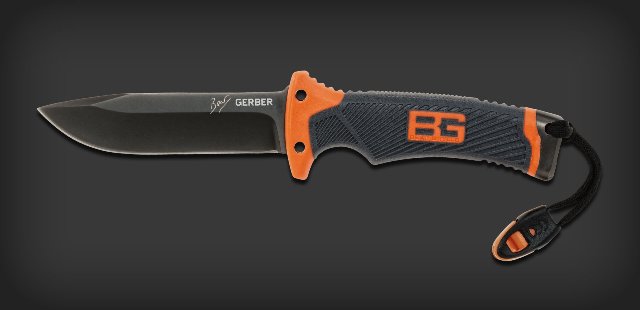 Gerber now offers the Ultimate Knife with a fine-edge that is not serrated as its predecessor was. It's a full-tang fixed-blade sheath knife that is one piece from the top of the handle to the tip of the blade. The Ultimate Knife uses the same high carbon, stainless steel drop-point blade and texturized rubber handle of the serrated version.
The Ultimate Knife comes with a nylon and hard rubber military-grade sheath that also contains a diamond-coated knife sharpener, fire starter and survival guide. An emergency whistle is attached to the lanyard cord. Note: Exact blade steel type or Rockwell hardness rating was not provided. MSRP: $62
Deschutes Women's Rain Jacket
Redington's Deschutes women's rain jacket is cut to fit a woman and the unique soft hand and 4-way stretch fabric moves with you. The adjustable storm hood and concealed draw cord at the waist ensures adjustability for any fit. Makes a great gift for any woman who likes to get outdoors to play no matter the weather.  Available  in Kingfisher and Moss.  MSRP: $149.95
Mountainsmith TOUR FX
Uses 12 recycled plastic 16-ounce bottles
This Mountainsmith Tour FX features ReForge, a material that is 100-percent recycled PET fabric with 840d nylon Ballistic reinforcements and polyester lining. Removable shoulder strap with sliding pad. Air mesh foam back panel. Back panel airline ticket pocket. Tuck-away waistbelt. Delta Compression System load adjustment. One side Hypalon attachment point with quick release buckle to accommodate lens cases carry system. Side mesh water bottle pocket fits 22oz bottle. Two compression straps for tripod carry. Interior padded compartment with camera carry dividers. Zippered clamshell opening top compartment for accessories. Expansion zipper for increased carrying capacity. Strapette compatible. Yellow lining for visibility. Zippered front panel organizational pocket. Removable storm cover. MSRP: $100
Marmot Variant Jacket
An ingenious hybrid design sets this jacket apart, with our unique Thermal R™ insulation sewn into the front panels for warmth, and Polartec® Power Stretch® comprising the back and side panels. It's a surprisingly warm garment that never feels bulky, ideal for cold weather excursions when freedom of movement is crucial. MSRP: $150.
The North Face Jammu

Jacket
This North Face Jammu jacket is a waterproof, breathable soft shell garment made from Polartec Neo Shell fabric. The fabric is said to be one of the most breathable, waterproof material available to the outdoor market. The Jammu is geared for use in active, cool weather where you need thermal insulation and waterproof protection in one jacket. You'll also appreciate the fully adjustable integrated hood, strategically located pockets, non-abrasive cuff tabs, and hideaway cinch cord. MSRP: $399.
Redington's Cascade Hoody
This Cascade Hoody is the perfect three-season piece for comfort and performance. The elongated sleeves with thumb holes, stand-up collar and UPF 30+ fabric protects sensitive skin from the sun while the fast-wicking, quick drying and odor resistant material make it great for any outdoor activity. Wear this piece to hike, backpack, camp or fish. MSRP: $69.95.
Cabela's Thermal Zone Baselayers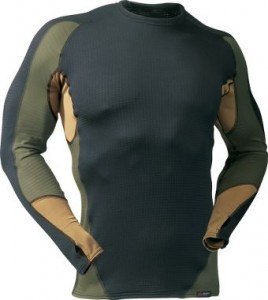 New Thermal Zone baselayers by Cabela's use Polartec Power Dry High Efficiency fabrics to create a complete body temperature regulating system. The Thermal Zone features an antimicrobial treatment to manage odor. And the combined technology allows the outdoorsman more versatile insulation to deal with the variety of weather conditions faced in the field.
Body thermography was studied in order to determine the critical areas that maintain core temperatures. Heavier weight Polartec Power Dry is used in the core and maximum exposed areas, mid weight is used in less critical areas, and lightweight Polartec Power Dry fabric is used in high-output areas prone to excessive perspiration, as well as the cuff areas to minimize bunching.
So the Thermal Zone combines three weights of strategically-placed fabric to provide maximum breathability, warmth and comfort where you need it most. Cabela's Thermal Zone baselayers include crew and one-quarter zip tops, and bottoms.
MSRP: $80 – 95.
Sockwell Compression Sock
There is nothing simple about these Sockwell knee-high compression socks, other than they are simply marvelous. Constructed of 32-percent Merino wool, 31-percent Bamboo, 32-percent stretch nylon and six-percent Spandex.
The cushioned soles are very comfortable inside hiking boots, as well as worn alone. There is an arch support system as well. An arch support is an added band of spandex sewn into the arch area of the foot. This serves two functions: to provide support to the arch area of the foot and reduce slippage of the sock in your shoe.
Look no further for a stocking stuffer this Christmas season, for a price point of $24.99, you can get a leg up on your gift giving purchases.