By Tim Stefani
The K-Swiss Tubes 100 running shoe for men is an ultra light, exceptionally stylish and amazingly comfortable way to get your miles in this year. The K-Swiss commitment to a quality sneaker is effectively combined with their obvious passion for cancer awareness in these Stand up to Cancer edition, Tubes 100 running shoes. The first time I laced them up I knew I would be making a bold statement on the trail.
I stepped into the shoes and was immediately consumed by their ultra-light feel. 12 oz to be exact. I have worn many light running shoes in the past, but these were light, super light. As I moved my toes around inside the shoes, getting a feel for their overall comfort, I was somewhat shocked at the thinness of the shell. The mesh fabric resembles that of a water shoe in texture. Extremely light and exceptionally breathable.
Such a thin and breathable shell requires an innovative support system, one that allows the shoe to flex without sacrificing stability. This is where the mid-foot support system comes in. Acting like an exo skeleton, the reflective structure is strategically placed around the outside of the shoe, almost like a cage around your foot. The shoe can literally bend in half without causing any annoying pressure points.
There is no real break-in period for these shoes. Out of the box they are as comfortable as any old favorites you may be running in now. I noticed this in the first few miles I ran in them.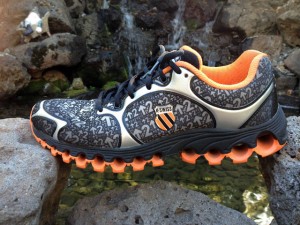 The AOSTA II rubber compound outsoles were an absolute joy to run in along my paved trail of choice. The airy spring-like design had me feeling light as a feather with each stride. The outsole provides superb lateral stability while allowing the shoe to be extremely flexible front to back. I spent less time fighting a stiff shoe and more time enjoying the trail and my pain free shins. The Flex-grooves increase flexibility and traction.
To run a few miles in a pair of shoes is one thing, to be in them for ten hours a day for four days straight is another. I gladly took these shoes with me on my family vacation to Disneyland where they were put to the ultimate test. The contrasting black and orange color scheme accented my outfits well. I felt bright, light and ready to tackle California's happiest place on earth.
After day one, zero foot or leg pain. Day two, same result. Day three and four, no change. I took three different pair of shoes with me and never changed out of my Tubes 100's. While others in our party were complaining about all the walking we were doing, I felt fresh and ready to take on more. Also my stay-tied laces never came untied once.
The ultra-soft tongue mimics the overall style of the shoe, thin, light and effective. A very cool placard reading, "I Stand Up For ____" is neatly affixed to the tongue. A sweet little feature that will sure to be the talk of your next cancer benefit run. In this day and age, each and every one of us has been touched by someone battling cancer and we all understand the importance of cancer awareness. These shoes accomplish that while looking cool and feeling good.
A good pair of shoes are worth their weight in gold, meaning in today's economy, the K-Swiss Tubes 100 runners should be worth around twelve thousand dollars (the value of 12 oz of gold), however you can get yourself a pair for $74.99. An exceptional value for such a stellar shoe. Whether you are a runner, jogger or just someone who is on their feet all day needing a comfortable, stable and light athletic shoe that looks cool, then get yourself a pair of these K-Swiss Tubes 100 running shoes.