By Riley Tucker
Look no further than the SpinCycle cap by Headsweats to unite performance, fashion and safety on your next bike event or even a jog along the warm desert trails of Joshua Tree. Most caps are effective at warding off the sun, but the SpinCycle cap is ideal for fresh air junkies looking to burn bike miles on the trail. It's nice to know that the SpinCycle is ahead of the others in providing a smooth run for the active cyclist and trail blazer.
Pretty Cool Fabric:
The SpinCycle cap is made from COOLMAX performance fabric with a fiber-based management system, moving perspiration away from the body. My head was able to breathe through proper ventilation in the fabric and the cap has a built in sweatband along the forehead, keeping sweat from dripping into my eyes along my morning ride through the park. Excellent airflow throughout this fine cap!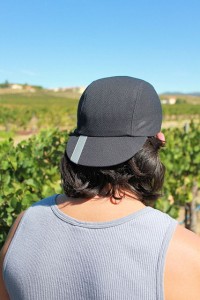 Wash Headsweats' cap in the machine and let it hang on the rack to swiftly dry. The SpinCycle will also evaporate sweat throughout the fabric on your next mountain bike excursion due to the nature of the COOLMAX technology fabric.
Fabulous Fit:
With two color choices of black or white, the SpinCycle was simple to slip on. The durable elastic band at the back of the cap held my hair back and gave a snug fit without feeling "tight". The stitching is very secure in all manners of construction and for a suggested price of $20.00, this fits the budget as well.
This sturdy, but light-weight cap also worked well under my bike helmet. It was natural on my head and did not feel restricted with the addition of the helmet. Cap forms to the head, while still allowing the head to feel cool.
Sewn in Safety:
Reflective stripe on the front of the bill was a great safety feature when I ran in the early mornings; with the sun coming up a little later this fall, it was reassuring that I had extra visibility to motorists along the road towards the park. The stripe is also along the inside of the soft bill. Initially I thought this may pose as a distraction to me during my bike training, but it was not cause for concern at all. In fact, it's great because I'm able to flip the bill up on occasion with reflective visibility at the front, in classic cycling style!
If that weren't all, sun protection of SPF 20 comprise the cap for those days when the trails are blazing hot.
All around the SpinCycle will turn heads. Headsweats provides Cool fabric, fabulous fit and sewn in safety in this thoughtful design, something that just doesn't happen off the top of your head.
http://www.headsweats.com/products/SpinCycle.html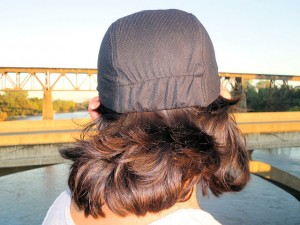 Specifications:
Weight:  2.00 Ounces
COOLMAX® Fabric terry headband quickly wicks moisture away
COOLMAX® Fabric shell to keep you dry & comfortable