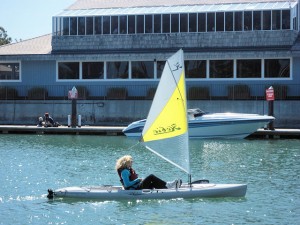 By Mary Webb
Hobie, known for high quality and innovative boat and kayak design since 1950.  Throughout the last 60 years, Hobie has developed a variety of boats. Hobie boats include sailboats, fishing boats, and kayaks that are enjoyed by water recreationalists all over the world.  I took a day in magnificent Dana Point, California for a seaward journey in the harbor, in tow with other wayward sea travelers for a day of pedaling in the Hobie kayaks.  Yes, you always have the option of using traditional paddles to power your kayak. But three of us used our feet to pedal our way about the harbor.
I was greeted with fantastic weather and Tim Boyer, owner of Dana Point Jet Ski and Kayak Center.  Friendly and very knowledgeable, he suggested I try the Hobie Revolution kayak.  He was correct in his assessment. The Revolution is easy to get used to.  The Revolution is part of the Mirage kayak series, offering quick acceleration with minimal effort of pedaling.  With three enclosed storage bins, the Revolution can be taken out for a full day of fun and racing with other Revolutionists.  This ample storage can facilitate a large lunch, beach towel, and perhaps a change of clothes.
HOBIE REVOLUTION KAYAK
The design quality of Hobie's Revolution was evident upon stepping in.  Made from polyethylene plastic, the Hobie kayak provides more stability than I experienced in other small boats and kayaks.  I found it effortless to hold my position in the kayak; "sturdiness" is the word that kept coming to mind as I made my way out to sea.
Pedaling out in the ocean was superb with Hobie's Mirage Drive pedaling system.  Two padded pedals drive a pair of underwater "fins."  While the legs are the largest muscle in the body, I was using less energy to get to where I wanted to go.  For further comfort, the pedals adjust to various lengths, allowing full extension without hyper extending the knees.  Strides were produced more efficiently by pedaling in short movements; this is a valuable option here if your legs get tired.  It's in the design of the rudder that allows full range of motion in the ocean.  In fact, you really don't have to pedal at all if you choose.  How is this possible?  Optional features turn the Revolution into a motorized boat; simply attach the Hobie eVolve electric motor kit and you are hand and foot free!
Pedaling with my mates in the afternoon sun brought on an appetite.  We decided to head over to Mother's Beach for mouth-watering sandwiches we tucked away in the kayaks.  While the kayaks are not designed to be attached to one another, we were able to do so with the bungee tie and fishing rod holders. We just sat there floating upon the water and discussed our lovely day.  The sandwiches, stowed away in the twist and seal hatch were moist from the fresh bakery, not because salt water splashed inside the hatch.  A cup holder was a welcome addition for my water bottle so I could attack my sandwich with both hands!
One of the great advantages eluded to earlier is the notion of hands free kayaking.  Pedaling in the Hobie kayak not only provides a greater distance with less exertion, but photography and fishing are more conducive to a hands free environment.
Out on the ocean, photography captures unique perspectives along the shore; shots you wouldn't normally get on the land.  For example, I was able to get a quick picture of a seal, resting upon a nearby buoy.  An attached mesh pocket is located next to the steering handle to safely store your camera when not in use.
HOBIE PRO ANGLER
More than ever, lake and ocean fishing are very popular among kayak users, and Hobie makes a kayak called the Pro Angler, also in the Mirage series.  The Pro Angler is a bit longer than the Revolution and quite a bit wider. It's 9.5″ wider to be exact.
The Pro Angler makes fishing more convenient with horizontal rod storage, front hatch with removable liner and a working area with cutting board.  I was able to try the Pro Angler as well, and found it to be just as easy to maneuver as the Revolution.  There is a measuring rod inside the Pro Angler which is a great addition to a fishing excursion, being able to determine what is dinner, and what is bait!
The Pro Angler has options here; in addition to an electric motor, there is a larger fin kit that may be attached.  These larger fins are called the Turbo Fin Kit which substantially enhances the Mirage Drive.  The larger fins increase speed for longer days on the sea.  It would seem a larger set of fins would make more noise out on the water, but this was not the case when I used the Pro Angler.  The fish won't hear you coming in this or many of the other Hobie kayaks for that matter.  An added bonus was how the kayak was able to spin in a complete and neat circle out on the water, perfect to increase the odds for a quick catch of the day.
All of the Hobie kayaks come with paddles and on-hull storage, for times when you want to gain a little extra speed to beat your fellow kayak partners to the shore.  I enjoyed trying the paddle and getting some exercise in my arms.  The paddles are curved, so initially I found myself traveling backwards when I placed the oar in the water incorrectly!  Be mindful to have your paddle positioned correctly and you will get to where you need to go.
Hobie is well known for their sailboats, but did you know you can turn your kayak into a sailboat with a simple sail mount attachment?  In two quick steps the kayak turns into a day of sailing on open water.  I was able to take the ropes in my right hand and have my left hand available for additional steering with the rudder control if necessary.  It is best to put the pedals at right angles to the boat and allow your feet to rest.  The sail will do all the work, and mighty it is.  I was amazed that the kayak didn't tip over either, especially at the occasional strength of the wind near the harbor.  The quality design of Hobie's boat makes it an assured dry run for setting sail on choppy sea.
The kayaks come with carrying handles, and wheeled carriers are also available for easy transport from summer home, or car top, to the water's edge.
You can visit your local Hobie retailer to try a kayak for yourself.  With so many options to choose from: versatility, durability and accessories are yours for the taking.  Whether you want to race your friends to the buoy or relax in the open water among the yellow tail tuna, your initial investment of $1599 U.S. for a Hobie MirageDrive pedal boat will be money you won't miss.
Kayak Specifications:
| | | | | | | |
| --- | --- | --- | --- | --- | --- | --- |
| MODEL | COLOR | CREW | LENGTH | WIDTH | HULL WEIGHT | CAPACITY |
| | | 1 | 9′ 7″ / 2.92 m | 29.5″ / .75 m | 48 lbs / 21.77 kg | 225 lbs / 102 kg |
| | | 1 | 12′ 1″ / 3.68 m | 33″ / .84 m | 66 lbs / 29.9 kg | 400 lbs / 181 kg |
| | | 1 | 13′ 5″ / 4.09 m | 28.5″ / .72 m | 58 lbs / 26.3 kg | 350 lbs / 159 kg |
| | | 1 | 16′ / 4.88 m | 27.5″ / .7 m | 62 lbs / 28.12 kg | 350 lbs / 159 kg |
| | | 1-2 | 12′ 8″ / 3.86 m | 34″ / .86 m | 72 lbs / 32.66 kg | 425 lbs / 193 kg |
| | | 1-2 | 14′ 6″ / 4.42 m | 33″ / .84 m | 73 lbs / 33.11 kg | 550 lbs / 249 kg |
| | | 1 | 13′ 8″ / 4.17 m | 38″ / .97 m | 88 lbs / 39.9 kg | 600 lbs / 272 kg |
| | | 1 | 16′ / 4.88 m | 27.5″ / .7 m | 115 lbs / 52.16 kg | 350 lbs / 159 kg |
| | | 1-2 | 18′ 6″ / 5.64 m | 30″ / .76 m | 192 lbs / 87.1 kg | 600 lbs / 272 kg |
| | | 1 | 9′ / 2.74 m | 36″ / .91 m | 39 lbs / 17.69 kg | 325 lbs / 147 kg |
| | | 1 | 12′ / 3.66 m | 36″ / .91 m | 53 lbs / 24.04 kg | 500 lbs / 227 kg |
| | | 1-2 | 14′ / 4.3 m | 36″ / .91 m | 61 lbs / 27.67 kg | 550 lbs / 249 kg |
| | | 1 | 9′ / 2.74 m | 30″ / .76 m | 40 lbs / 18.14 kg | 250 lbs / 113 kg |
| | | 1 | 11′ / 3.35 m | 30″ / .76 m | 48 lbs / 21.77 kg | 325 lbs / 147 kg |
| | | 1 | 13′ / 3.96 m | 28.5″ / .72 m | 57 lbs / 25.85 kg | 350 lbs / 159 kg |
| | | 1-3 | 11′ 6″ / 3.51 m | 34″ / .86 m | 63 lbs / 28.58 kg | 425 lbs / 193 kg |
| | | 1-3 | 14′ / 4.27 m | 33″ / .84 m | 71 lbs / 32.21 kg | 550 lbs / 249 kg |
Color Specifications:
| | | |
| --- | --- | --- |
| MIRAGE COLORS | INFLATABLE COLORS | PADDLE COLORS |
| Caribbean Blue | Sundance | Caribbean Blue |
| Golden Papaya | Sage | Golden Papaya |
| Red Hibiscus | | Red Hibiscus |
| Ivory Dune | | Ivory Dune |
| Olive | | |
For a complete list of Kayak amenities and accessories visit the Hobie website:  http://www.hobiecat.com/
Dana Point Jet Ski and Kayak Center:  http://www.danapointjetski.com/