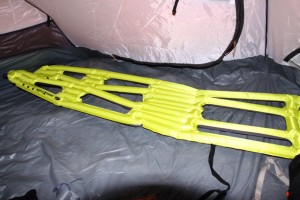 By Rick Shandley
Klymit hit a high-water mark of innovation with the Inertia X Frame sleeping pad. The very design makes sense with loft and body support only where the hips and shoulders make contact with the sleeping pad while sleeping on one's side. For folks who sleep on their backs, the X Frame offers all the support of a traditional sleeping pad.
But it's the light weight of 9.1 ounces and the compact package when rolled up and in the backpack that get's the accolades from us. For a full-length sleeping pad that takes up so little room, the Klymit Inertia X Frame may be a great choice for back country hikers who need to keep the pack weight to a minimum without giving up the cushion between the body and the hard ground.
You can almost visualize how the X Frame was designed and mapped out on Computer Aided Design (CAD) software to determine where body pressure needs support and where it does not. The voids, or physical absence of inflated material, simply reduce the amount of material needed for construction thereby reducing weight and pack size. But it's the creative vision that it took for an individual to see the possibility of creating something so bold in design while taking the risk to develop the technology needed to bring this innovation to market.
In the marketing material, we see the X Frame compared, in size, to a soda-pop can. Well, from this writer's view, the Inertia X Frame is closer in dimensions to a Starbuck's Venti  paper coffee cup in size – the one with the new logo – only slightly taller. As far as I'm concerned, this relatively compact size is ideal. There are other really good, light, and compact non-insulated camping pads available on the market that we have had the opportunity to live with, but the X Frame is definitely one of only a few that gets this small. It's an asset when loading up the backpack and being able to slip it in with the down bag in the sleeping bag compartment of the pack. It simply does not take up any significant room. We really like that.
In mild to chilly weather conditions you may find on any number of potential back country overnight treks, the Inertia X Frame sleeping pad worked great. No, I didn't count the number of breathes it takes to blow up the sleeping pad. From our standpoint, we do most of our trail work in elevations starting at 7,500 feet where, unless you're a Sherpa, it takes some time to acclimate. All we cared about is that it doesn't take but a handful of inhale and exhale cycles to get the X Frame just right. Now that little black air pump bulb works fine for adjusting the pressure in the X Frame, but we found it a nice touch more than a necessity.
Our X-Frame has been on several adventures where the sleeping comfort became a thing eventually taken for granted. When you are exhausted after a day of exertion and ready to lay the noggin on the ad-hoc pillow, you just sleep.  There is no discomfort or "falling between the cracks," or rolling off to one side to report. The X Frame did a good job supporting a 200-plus pound person and there are no glaring complaints. What was and continues to be impressive is the negligible weight and compact, trail-ready, capability this sleeping pad brings with it. When you consider the bulkiness of stuffed down jackets, cooking kit, stove and canister, water bottles and food, the small size of the X Frame in its little storage sack is a joy.
The Inertia X Frame is clearly a three-season nest to rest your body on, as my first experience with it came in the dead of winter. Please know, this takes nothing away from the excellent form and function of this bold, creative, sleeping pad specifically designed for three-season use. We share this experience only because a trip was planned, and the X Frame came to us right about the time we were fixing to launch on a snowshoe romp up Rock Creek canyon in the Sierra Nevada during the winter of 2010/2011. Plus, the photos of the Klymit Inertia X Frame sleeping pad were taken on this first-time-out picnic in the snow.
When it came time to set up the tent right on top of about four feet of snowshoe-packed snow, it was apparent that perhaps this was not the best time to use a sleeping pad that looked like a Japanese paper snowflake! The temperature dropped to 0°-degrees on the expedition watch thermometer we had on this trip as the night settled in. It got colder as the winds raced through the canyon.  And we figured the tent shaved off about 10 to 15-degrees from outside temps. So, while pulling out the Kelty Foraker -15° down sleeping bag and inflating the Inertia X Frame, it was evident more insulation had to be used between the tent floor and the sleeping pad.
While this illumination of circumstance was going on, the little black air pump that is provided with the X Frame froze solid in minutes.  Water bottles, the drinking tube to the Camelbak hydration bladder, anything liquid or not, just froze. We had enough insulation to put under the X Frame and allow the pad to provide cushion and comfort. The night went ok, and the sleeping bag made up for any lack of insulation with high-end 800-fill down warmth. Lesson learned.
We share this winter experience because we have full confidence in Klymit. The innovation group out of Salt Lake City, Utah, is also the same company that developed the Klymit insulation system using Argon gas to fill the void space designed into the baffle areas that creates warmth in a very lightweight system of the Klymit vest. It's also our hope that Klymit will combine their expertise and design capabilities to create an insulation barrier using their Argon gas technology in a Inertia X Frame application that is rated for four-season use. You know, just slip in a series of breathable, yet airtight chambers to create that 4mm layer of insulation. A challenge might be in how to exit the Noble gas from the pad when you are on the move day after day, but it may be simply a matter of more engineering and innovation to get to that four-season capability.
X-Frame is built tough enough. Sleeping pads, as you well know if yours has ever failed even once, can be vulnerable to sharp objects and are subject to punctures and tears. The X Frame is made from ripstop nylon of 30d weight on top and coated 75d weight fabric on the bottom. It has a burst pressure rating of more than 10 psi, so it would take a lot of misuse before it would be subject to failure. In the six trips this pad has been on it has just done its job, and that's all we would ask of it.  Retail is about a hundred dollars, but that's fifty dollars less than the product that comes to mind as being this compact and light for a mild-weather sleeping pad. The Klymit Inertia X Frame sleeping pad is definitely worth investigation and consideration for the practical reasons alone.