By Mary Webb
Salomon Idol 8 CS is a rock-star of women's all-mountain downhill skiing gear.  As we headed up north to the great Mount Shasta, we knew we needed a serious boot for serious snow-studded slopes.  Black diamonds and moguls are no match for the novice; we sought a high performance boot that would take us to great heights.   We found it here with these Salomon Idol 8 CS mountain boots. Right out of the box we knew we struck gold, and silver; a platinum-colored design and sleek look for downhill adventure.
Salomon, a name you can trust and with good reason.  Many efforts were made by Salomon to ensure speedy and comfortable slalom runs with the Idol 8.  Proven performance, Salomon holds true to form; and this form starts with custom shell material.  Salomon patented Kaprolene, a plastic material that molds the boot's shell to your foot's shape.  The shell is comprised of multi-layers; a professional design to allow the skier to traverse an advanced run, effortlessly in precision performance.
To obtain optimum performance, it's important to have a shell that will give you room to move where you need it.  A shell that is too narrow is painful. And if it is too large, your foot is slipping about the boot and you will not be able to obtain your bearings on the snow capped mountain terrain.  While the Idol 8 series may seem a bit tight on your toes the first couple days of your snow packed week in Tahoe, it will surely soften; like the warm sun on the west faced slopes.
Going one step further, (pun intended), are flex features; and Idol 8 has a flexibility index of 85.  The higher the number, the stiffer
the boot; it's important to try the Idol 8 on and lean forward, this will give you an indication of your downhill stance.  Beginning boots will tend to have a lower flexibility number; so it's important to be mindful of this while assessing your proposed jaunts to Mammoth.  Also keep in mind that trying the boots on in warmer indoor temperatures will tend to give you little more flex than putting them on in the snow.
It is delightful to step into Salomon's Idol 8, Faux fur greets you and stays with you on the slopes; delivering warmth and added comfort for your shins.  We really appreciated the built in loops on the tongue that allowed us to pull the boots on.  Especially after lunch, and a few morning hours down the diamonds.
Let's talk some more about the Idol 8's tongue, Thermo-formable foam liner is a necessary accessory for protection in speed.  The heels are comprised of the Thermo-foam as well; and believe me, your ankles and heels will feel the reprieve, especially around sharp-mogul turns.  In addition, removable heel and toe din pads offer extra shock absorbency and can be replaced when they are worn out.
There is no question Idol 8 is a women's ski boot, you know by the name.  Salomon will typically give the name "Idol" to a women's boot and "Impact" to a man's boot.  The women's boot differs from the men's in that Idol's contain a narrow cuff shape, stopping low on the leg to accommodate a women's thinner calves.  There is also an adjustable calf cuff on the upper portion for individual fit, for the woman who isn't afraid to have things her way!  In addition is a heel wedge, narrow tailored for a downhill ski stance.
These boots aren't made for walkin.'  It's assumed in this advanced series that you will be spending the better part of the day kicking up powder and racing the slopes.  You may want to have a pair of Cushe boots handy back at the locker when it's time to grab that much needed chicken salad for lunch at the lodge.  While you are sipping your soda and a fellow downhill skier sparks up a conversation at the salad bar, they may ask your mondo size.  Don't seem too perplexed.  What they are asking is a term downhill skiers use to measure their boots.  It's a measurement of the inner sole length in centimeters.  The following chart gives an approximation of comparison, as some sizes vary with different manufacturers.
Mondo Ski Boot Sizes to US Sizes
| | | | | | | | | | | |
| --- | --- | --- | --- | --- | --- | --- | --- | --- | --- | --- |
| Mondo | 21.5 | 22 | 22.5 | 23 | 23.5 | 24 | 24.5 | 25 | 25.5 | 26 |
| Women's US | 5 | 5.5 | 6 | 6.5 | 7 | 7.5 | 8 | 8.5 | 9 | 9.5 |
| | | | | | | | | | | |
| Mondo | 26.5 | 27 | 27.5 | 28 | 28.5 | 29 | 29.5 | 30 | 30.5 | |
| Women's US | 10 | 10.5 | 11 | 11.5 | 12 | NA | NA | NA | NA | |
Buckle in for adventure!  This rock star completes the platinum look with four titanium buckles, one of the lightest and strongest materials on the market.  We felt secure closure in the top two buckles, setting the foam liner and faux fur into a comfortable, locked position.  It was easy for cold hands to buckle the boots as the cuff buckles are extended for ease of closure, longer than a standard buckle.  Adjustable instep buckles have three positions on the shell; various angles may be achieved throughout the downhill of the day. As Mr. M. Jagger must fine-tune his voice, so we may with the Idol 8.  The additional 2 buckles situated along the base of the foot have a micro-adjustable swivel to perfect your skiing experience.
As we start to wrap things up here, this brings a perfect time to discuss the 35 millimeter Velcro strap that wraps around the ankle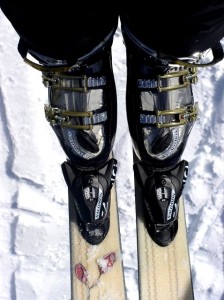 and seals the deal.  We are loco about the logo on the front of the strap, pulling together not only the closure of the boot, but the colors of the boot as well.
But we can't leave without discussing the canting. You will know you need canting adjustments if you are straining to keep your skis straight. Another indicator is your positioning; shoulders should be centered over the hips and heels and knees should ideally be centered over your arches.  Most importantly a good calf fit in the boot means no painful pressure throughout your day, and more hours in the alpine!  Rear spoiler heights can be adjusted for more or less rear support on the calf.
Snapping out of our skis was a snap in the Idol 8's.  Looking back one last time at the slopes, we were thankful for the long day on gorgeous Mount Shasta and also thankful that Salomon installed a Neoprene toebox in the ski boots.  A women needs to be able to wear her heels to the office after cutting it up in Shasta, and the Neoprene works with the foam liner to provide added shock absorbency.
So it is with great care we say good bye; and with minimal care of your idol 8's, they will last for years before needing to be replaced:
Dry your boots after each use.  Remove the liners and let them dry at room temperature.
Wipe down the shell, removing mud or slush.
Store your boots with buckles and straps closed to help the shell retain its shape.
For a MSRP of $625.00, Idol 8's will rock with you for many performances to come.
Salomon Idol 8 CS Specifications:
| | |
| --- | --- |
| Specification | Description |
| Skill level | Advanced |
| Ski design | All-mountain |
| Flex index | 85 |
| Liner | Thermal-formable foam |
| Custom moldable liner | Thermal custom |
| Ski/walk position | No |
| Footbed width | 100 millimeters |
| Flex adjustment | No |
| Gender | Women's |
| Best use | Downhill skiing |