Get all the advantages of an inflatable sleeping pad at a fraction of the weight
By Dan Sanchez
While some extreme backpackers, climbers and ski mountaineers can make due with using snow, pine needles and soft dirt to sleep on, the rest of us can lighten our packs significantly using Brooks-Range's Alpini sleeping pad.
There's no reason to be uncomfortable in the backcountry with this 17.1 ounce inflatable sleeping pad. It uses die cut foam to cut down on weight while still providing enough insulation to keep you warm in your sleeping bag. It also keeps any warm air in the pad in one place, eliminating airflow inside the pad.
The Alpini sleeping pad also saves weight by cutting down on its overall size, measuring 38-1/4 inches long and 19-3/4 inches wide the pad only extends from your head to your hip, allowing you to use your pack under your legs and feet for insulation.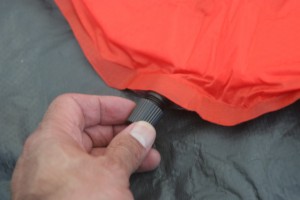 We found the Brooks-Range Alpini sleeping pad easy to inflate. The valve is a durable plastic piece and it inflated relatively fast. When you pack it away, it quickly deflates and rolls up tightly into a small stuff sack that's roughly about two inches in diameter by nine inches in length.
Because Brooks-Range is all about alpine safety and mountain rescue, the top of the pad is bright red, making it great for allowing rescue personnel to spot you in case of an emergency. On the top of the pad, Brooks-Range also printed a variety of SOS signals using your body, a flashlight, whistle, ground signals and even Morse code.
While you wait for help to arrive, the checker board printed on the pad will allow you and your buddy to pass the time in a checkers tournament, but once you've successfully signaled a mountain rescue helicopter to spot you and pick you up, the pad also has ground-to-air helicopter hand signals that you can use to safely guide them to land at your emergency scene.
The Brooks-Range Alpini sleeping pad is definitely a lighter and smaller choice than those low-cost foam pads. At a retail cost just under $60, it also makes for a great way to lighten your load and is much better than sleeping on the ground. For more information, visit www.brooks-range.com.