Granite Gear Sil and Uberlight Drysacks worked for us!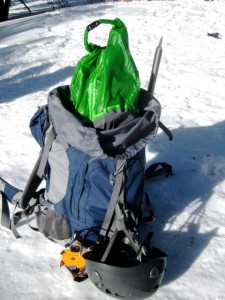 By Kevin Varner
Granite Gear Drysacks offer an affordable and effective solution to battling the elements. Winter and spring snow and rain present back country hikers with some of the harshest obstacles nature throws at them.  Aside from the cold, moisture is the greatest challenge during these times of the year.
Now is the time to invest in waterproofing gear.  Outdoorsmen have increasingly technical and expensive gear, including electronic equipment for navigation and communication.  These, along with clothing, food and fire supplies must be kept dry.
Many packs are marketed as waterproof or water resistant.  There is a huge difference between the two.  These packs claim to completely isolate their contents when submerged or at least effectively repel moisture in rain storms.  A common problem, however, which avid outdoorsmen are bound to encounter is a leaky or burst water container.
There is nothing worse than losing an expensive GPS unit to a burst three-liter water bladder inside a water resistant pack.  The best way to avoid this from happening is to compartmentalize all of the gear at risk of getting wet into dry sacks within the pack.  Having your gear in waterproof dry sacks within a waterproof pack is arguably the best line of defense.
Granite Gear offers a number of drysack models for mountaineers, hikers and backpackers.  These drysacks are extremely lightweight waterproof containers which protect one's most precious possessions.  The latest dry sack model is the Uberlight dry sack which comes in four sizes: 7-liter, 10-liter, 13-liter, and 18-liter.  The 7-liter sacks are large enough to store nearly any electronic piece of equipment, but small enough to be used to separate pieces of gear.
Granite Gear drysacks come in a variety of colors including blue, red, green, and yellow, which allows the more organized outdoorsmen to color-code their gear.  Using the dry sacks to store miscellaneous medical supplies is a great way to create one's
outdoor medical pack rather than purchase an expensive pre-made one.
Outdoorsmen often times try using cheap alternatives to "waterproofing" their gear, such as encasing their belongings in zip lock bags.  However, there are three main features of Granite Gear dry sacks which distinguish them as better and worth the few extra bucks.
The first characteristic is the reduced weight to one's load.  The second notable feature is the roll top which forms a waterproof seal superior to any water-sealed zipper or zip lock bag.  The third and most notable feature is the eVent breathable bottom which allows for one way air flow.
Granite Gear has made many strides in the development of waterproof material.  Their most common model of drysack, the Sil, is comprised of a waterproof nylon fabric.  This fabric is extremely durable and carries a rating of 30-denier.  When selecting waterproof material or any durable fabric for outdoor activity, denier is important.  Denier is different from thread count in that it is a measure of the yarn  diameter density, while thread count measures the density of the weave in any give fabric.
CORDURA Brand High Tenacity Nylon is used by Granite Gear because it is stronger than regular nylon yarns. In the never ending search for offering the lightest and strongest back country gear, Granite Gear set out to take its ultralight drysacks to a new level that outdoors men and women never had available to them before. Taking the technology to a new level wrought the Granite Gear Uberlight dry sack.
There are two models of the Uberlight dry sack is the next evolution of drysacks by Granite Gear. One of the Uberlight drysack's will be available with the eVent bottom, and one model will be available without eVent. Different back country applications may point to a preference for one or the other, so Granite Gear offers both. The Uberlight drysack with the eVent bottom will be available in March 2011. Granite Gear's Uberlight drysack with the eVent bottom is said to be half the weight of the Sil drysack with the eVent bottom. The Granite Gear Uberlight drysack without the eVent bottom is available now.
Before Granite Gear introduced the Uberlight line of drysacks, the Sil drysack was the lightest drysack on the market. Weight was not the issue as each and every type of back country gear has its place, and the material used in the Sil is very durable while still offering ultralight weight savings. It gets down in the endless choices an individual makes when loading up the backpack and what works for each individual. Long distance backpacking and vertical mountaineering trips require hikers to be frugal with weight and gear distribution in the pack, so Granite Gear offers you alternatives.
The Uberlight was constructed from Cubic Tech CTF3 materials.  What is Cubic Tech (CT) CTF3?  Cubic Tech produces incredibly strong, lightweight fibers used in the construction of parachutes, sails, and, of course, drysacks.  According to the Cubic Tech website, the material is "15 times stronger than quality steel."  It is quite difficult to believe because it is thinner than a Kleenex tissue and transparent.  True to their word, however, Cubic Tech could not be torn no matter how much pain we inflicted upon it.
Cubic Tech's fabric withstood all the punishment our latest snowbound trip dished out.  The material is lightweight, transparent, and resembles the waterproof woven fiber tarps used to cover leaky roofs.  We found the Sil model very dependable and did not find the weight difference between the Sil and Uberlight to be very significant.  However, we found that the Uberlight had a much more effective eVent than the Sil and deflated much faster.
Fresh Air Junkie recently put these products through the gauntlet on a snowshoe trip in the mountains of Southern California.  We
backpacked from the Palm Springs Aerial Tramway to the peak (elevation: 10,834 feet [3,302 meters]) of Mt. San Jacinto and were able to see the true colors of Granite Gear drysacks.
When hiking in snow and ice conditions, it is essential to keep every piece of cold weather gear dry.  A zero-degree (or lower rating) down sleeping back was my life line at our 9,000 feet bivouac site in January, and one must do everything to keep it dry. Though the Sil and the Uberlight models are not large enough to hold sleeping bags, Granite Gear does offer larger compression drysacks for this use.
When the weather dropped to subzero temperatures, we found an unexpected use for the dry sacks.  A neat trick to surviving a night in such conditions is to boil water and pour it in a plastic canteen or bottle.  Then place this bottle inside your sleeping bag which retains the heat and gives you roughly four hours of warmth during the night.  The only risk you run is that the canteen may leak and soak your sleeping bag.  This risk is greatly reduced if the bottle is wrapped in a Granite Gear drysack. Granite Gear drysacks are waterproof but not insulated, which allows the bottle to radiate its warmth without the fear of getting the bag wet. This technique was a lifesaver! (Note: author is a member of a search and rescue team.)
After tough testing we have concluded that Granite Gear dry sacks are a worthwhile investment as it is a piece of gear designed to protect other gear.  Any back country hiker looking to ensure their gear is waterproof should consider investing in at least one drysack.
Granite Gear is a rock solid company that ensures affordable quality products.  When shopping, however, evaluate which model addresses your needs on a particular journey.
The Granite Gear Sil model dry sack is a classic winner as it offers the roll top waterproof lid and eVent.  It is less expensive than its counterpart, the Uberlight, by about $15.  It is about 1.5 oz heavier than the Uberlight, which may become an issue on extended journey involving the use of multiple drysacks.
The Uberlight is slightly more expensive but is more frugal when it comes to weight distribution.  When it comes to selecting a brand of drysack, Granite Gear is worthy of your consideration.
When you do your research on potential waterproof gear protection, your dilemma boils down to one simple question:  is the need to shed 1.5 oz per sack worth shedding an extra $15 per sack for your particular application and trip requirements? Either way, these Granite Gear dry sacks did the job we tasked them with, and there is no question about that.