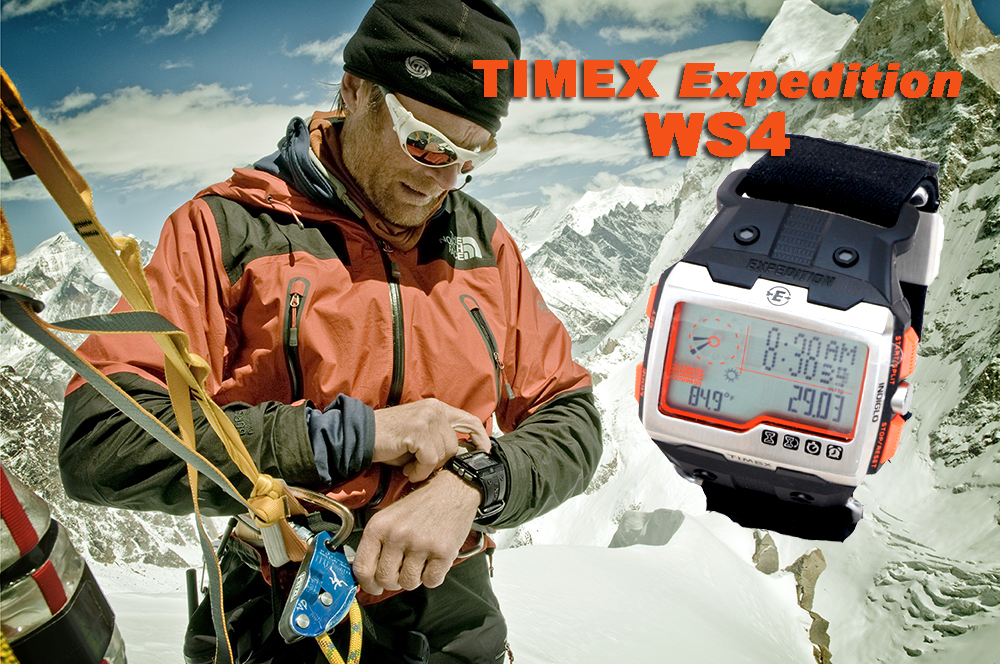 Product review by: Rick Shandley
When Timex chose to engineer a multi-function sensor watch for extreme high-country and rugged outdoor activity, they went a little further than thinking out of the box…they went out of bounds!  With the availability of the Timex Expedition WS4 timepiece outdoorsmen and women, mountaineers and backcountry travelers have access to a functional and valuable wrist-mounted instrument they can count on.
The Expedition WS4 is designed for extreme mountaineering at hyper-high elevations, but it's a natural for wearing daily as the design is current with many of the fashion trends in wrist-wear these days, yet it delivers solid information regardless of your activity.
Working with legendary mountaineer Conrad Anker, Timex designed the Expedition Wide Screen 4 (WS4) with four significant functions mountaineers need to make sound decisions when operating at high elevations.  In 2008, Anker used a prototype of the WS4 on an ascent attempt of Meru, a peak in the Garwhal region of the Himalaya. The 6330-meter peak (approximately 20,767 feet elevation) proved an extremely harsh challenge, one in which the Expedition WS4 handled with aplomb. The Meru climb also provided Anker with expert feedback that has been incorporated into the WS4.
In addition to accurate, digital, time keeping, the WS4's functions include an onboard Compass, Altimeter, Barometer, and Thermometer. Within this group of functions are several useful sub-functions that give the user a well rounded set of tools to operate in a harsh environment. The sub-functions of Alarms, stop-watch, time-splits and other functions an athlete would use to train for mountaineering or endurance events all worked flawlessly. Yet, for this review, we focused on the four primary information functions designed into the WS4.
In evaluating the WS4, the watch was tested against known measurements. Here are some of our observations of its functions:
COMPASS
The initial process of setting up the WS4 and calibrating the compass and weather functions took very little time, and for those of you accustomed to setting up digital instruments, the calibration and function set-up is almost intuitive.
After the compass was calibrated – it took two slow rotations of the watch – the compass calculates the declination angle or difference between magnetic north and true north giving you the directional heading and degrees of direction in relation to North.
The WS4 was then compared to two different liquid-filled traditional compasses and proved to be just as accurate, with all three pointing to zero degrees North. Each one was placed far enough from large metal or electronic objects, and apart from each other, to eliminate any magnetic field that might have influenced  the result.
While there is no direction of travel arrow on the watch dashboard, the direction of travel is simply the top of the watch as you would read the watch positioned right-side up on your wrist. That's obvious enough for us. Direction of travel will appear on the upper right display, and the degrees will appear in the lower left side of the bezel.
ALTIMETER
Our known elevation at the start of the test is 2,306 feet above sea level. During more than 10 days literally living with the WS4, the highest elevation point known was 7,885 feet as we traveled in the San Bernardino Mountains above Big Bear, California. Our intent was not to seek the very highest peak we could access, but to compare the altimeter reading of the WS4, within reason, of known elevations. The Timex Expedition WS4 proved quite accurate, offering a sense of assurance in the instrument.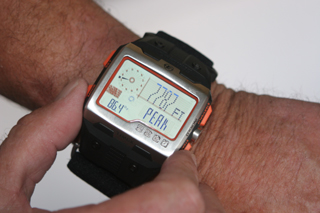 In addition to a choice of metric or standard elevation readings, the altimeter function offers several sub-functions a climber or person training for a climb may find useful. In the altimeter mode, the dashboard display will scroll through your Peak reading (your highest elevation), Accumulated reading as the total altitude change in your journey, and the current elevation you're standing at. An on-screen graph will visually show you the topographical up and down changes of your current hiking or climbing activity.
Furthermore, you can set an elevation alarm that will sound when you reach a pre-determined elevation. This alarm is useful to alert you when you've ascended to an altitude you don't want to exceed for medical reasons such as altitudes beyond 7,600 meters or 25,000 feet) to prevent hypoxia, or acclimatization climbs in preparation for the scramble to higher camps. You can also use the altitude alarm to alert when you are at the ridge or landmark, if you know the final elevation at that point. The instrument will also give you feedback on your climbing pace and progress.
Elevation rating for the WS4 ranges from -399 feet (cave exploration) to 8,997 meters elevation or 29, 517 feet elevation. With Mt. Everest hovering above earth at 8848 meters elevation (29, 028 feet and almost nine inches), the Timex Expedition WS4 has the technology to for virtually any peak on this planet.
BAROMETER
When calibrating the barometer function of the WS4, it's best to set it to local weather conditions. In our case we calibrated the altimeter from a known elevation; both work off the same pressure so you only have to calibrate one or the other. The sensor technology picks up the calculations from there. In the barometer mode, the dashboard displays high, low, current and corrected sea level barometric pressure in metric or U.S. measurements.  With the information the Timex Expedition WS4 delivers, you can learn to analyze weather conditions and make a reasonable forecast for coming climatic changes or assess the potential for incoming storms.
The following is how world-renowned mountaineer, Conrad Anker uses the WS4:
"Before I curl into my sleeping bag, I note the current altitude and barometric pressure," he says . "In the few hours I sleep, if I see a change in the altitude or barometric pressure I can get an idea of the coming weather patterns. As it is an inverse relationship between altitude and barometric pressure, if I wake at the same or lower elevation I can be confident the atmospheric pressure has remained constant. If I rise to a higher altitude, I need to be aware as there is a chance of a low pressure moving in."
THERMOMETER
Temperature readings very accurately matched outside temperature vs. mercury-filled analog, fixed, thermometers. This accuracy result occurred when the WS4 was off-wrist and stationed in the same location as the traditional thermometers. As the WS4 owner's manual states, the watch will reflect body temperature when it is worn on the wrist, and heat from direct sunlight. A heat-shield between the watch casing and the temperature sensor may be a solution going forward.
However, we have no issues with deducting an average of 10º F from the temp reading on watch. It's just an automatic mental calculation and you're just taking a glance at the watch anyway. A lanyard is supplied with the watch to locate the WS4 on your person if you are truly in on a mountaineering mission. The watch body and sturdy wrist-strap connections are perfect for using the lanyard.
We view the WS4, as a technically accurate information device bundled in a robust package with the primary purpose of serving well in true high-elevation alpine applications. The WS4 also accurately reflected outside temperatures greater than 107º F and at temps lower than 32º (freezing) to about 15º F. A light coat of condensation did develop on the watch crystal at the 15º F reading (easily brushed off), but all functions worked fine.
Here's some input we received from the Timex product development team regarding the temperature rating of the WS4 on the low temperature:
The temp rating is for the WS4 watch, not the sensor. Therefore the watch will function accurately down to a watch temp of 15-degrees-F. Since watch temp and ambient (outside environment) are two different situations, and the WS4 is a wrist-mounted watch that is insulated by the body, the watch does not go beyond 15-degrees F…unless you are deceased. If, however, outside temperature is -30F and you take the WS4 off your wrist, the outside temperature will be accurately recorded in about a half-hour; or the time it takes for the cold to reach the internal components of the watch.

Overall Impressions:
As with any equipment you will rely on in your adventures, it is incumbent upon each person to train and become very familiar with the equipment. Like training with your crampons, ice-ladders, and oxygen systems, the Timex Expedition is no different a device. The more you use it, the better information you will extract from it. That said, the WS4 is relatively easy to get to know and operate. Beyond basic familiarity, individual time and experience will bring out the best in this instrument.
The Timex Expedition WS4 watch is without question an instrument that does what it's designed to do. It's light weight is also a positive attribute and the wide elastic band on the WS4 is comfortable and expandable to fit over heavy parka sleeves and insulation garments. A solid wrist-band clasp works well, yet would benefit from an opposing-direction locking mechanism to keep the instrument from inadvertently un-clasping.
By pressing the INDIGLO illumination button, you can view the time and dashboard information in low-light and total darkness. This function worked well. It would be great to see an illumination technology applied to the digital information so the wrist-born watch can be glanced at without using a second human hand to read the watch. I wear a wrist watch 24/7 and will look at the time in the middle of the night, half-asleep. My daily-wear watch is a heavy diver's chronograph carved out of stainless-steel. The illuminated mechanical watch hands are visible in any kind of light.
At a price point of about $200.00 U.S., the Timex Expedition WS4 is a worthy choice for consideration when you still have to self-finance the rest of your gear. For more information, go to: www.timexexpedition.com
Timex Expedition WS4 watch's specifications:
Display: Widescreen, 38 mm x 25 mm
Case dimensions: 50 mm x 40 mm — Case height: 15mm
Temp range: Watch temp worn on wrist: 15-degrees F.
Power source: Battery – CR2430
Prime Functions: Chronograph, time/date, compass, altimeter, and barometer
Sub-functions: Weather forecast, Chronometer (lap times and splits), Activity data review, Alarms for waking and preset elevation. Note: Alarm sound get's your attention; not obnoxious.
Case material: Composite with a stainless steel bezel
Total weight: about .25 pound or 90 grams
Water resistance: to 164-feet or 50 meters
Watch Color Options: Black, orange, blue, white, and yellow – Strap colors coordinate with case.
Watch Mount Options: Expandable fabric with Velcro and stainless steel hardware; Rubber wrist strap; Lanyard secured watch for securing WS4 on or near your person (away from direct sunlight or body heat) for most accurate data gathering. Some folks like to use a pocket-watch set-up to free their wrists from any encumbrances.
Crystal: When matched against mineral crystal, the WS4 appears to also be mineral crystal – very scratch resistant.
Below are several other Timex action sport watches you might keep your eyes open to:
Timex Ironman Sleek 150-Lap (with Tap-Screen Technology) – launch in Feb 2010
Timex Ironman Race Trainer HRM (with downloadable workouts) – currently available
Timex Expedition WS4 (with XL Elastic Strap) –  available in October 2009
Timex Expedition WS4 Carabiner – available in February 2010
Editor's note: As technology advances in any discipline, cost eventually declines. And with technology comes greater efficiencies. The Timex Expedition WS4 is constructed with composite materials, a stainless steel casing, and proven advanced technology in the sensors and digital functions. We don't consider an affordable price to assess whether or not a product is useful or not. We test against stated features and functions of the product both objectively and subjectively. Subjective feedback is merely how the individual writer viewed a product in regards to how well the product functioned for the writer. This third-party evaluation does not eliminate (but intended to add to) the reader's information for forming their own assessment of a product through research and evaluation in order to make a purchase decision.