Core All Black is a precise multi-functional mountaineering wristop computer
By Kevin Varner
We took the opportunity to assess the Suunto Core All Black wristop mountaineering watch and enjoyed the accuracy and functionality of this multi-functional watch.
That said, most every backcountry trekker knows at least one old-timer that resists today's latest technology and swears that digital technology will result in the downfall of outdoor survival skills. Digital technology can, however, push the boundaries of outdoor recreation when skill and experience are applied to the latest wristop instruments available. The Suunto Core watch is a testament to this marriage between experience and cutting edge technology.
There is a list of essential items that all mountaineers must carry such as a compass, warm clothing, and, of course, a wristwatch. Mountaineers must constantly have a solid sense of time as conditions change rapidly given the hour of day. The Suunto Core All Black uses state-of-the art technology to assist mountaineers in every data-gathering function they need in their journey. It is not your average timepiece as it not only provides the time, but also provides users with an altimeter/barometer, an accurate compass and more.
Designed in Finland, Suunto watches are often a choice piece of equipment for climbers ascending into the vertical, unforgiving world of mountaineering.  We found the Suunto Core All Black to be a reliable piece of equipment suited for novice trekkers as well as experienced and serious mountaineers.
At first, it can be a bit overwhelming for those unfamiliar with mountaineering wristop computers.  But setting up the Core All Black
is very doable. And becoming familiar with the functions will become second nature with a little practice. With the Core All Black, like any digital wristop computer, occasional calibration and set-up is advisable when your adventures take you to different regional or global locations. This Core watch is an instrument, and as such requires the user to take the time to know how it functions and how to use the output information to stay safe and informed throughout your journey.
The Core All Black watch has a large face (which comes in handy in extremely low visibility) and a strong back light. The watch band fits all sizes from lumberjacks to chicken wrists, and has a vice-like locking system. All digital features are controlled by five buttons on the side of the watch case (two buttons at the 9 O' clock position of the watch face, and three buttons at the 3 O' clock position). These buttons are used to alternate between the three primary information modes and make selections to program the various functions.
The Suunto Core is waterproof up to 30m (as it is also reads dive depths up to 30m) and is composed of mineral crystal glass face.  Mineral crystal is highly scratch resistant and found on many high-end watches. The watch comes in various styles including our personal favorite solid black. The Suunto Core All Black watch is listed at $350.00, but delivers serious bang for one's buck.
This Suunto Core All Black wristop computer operates in the three respective modes, and each mode provides the user with a myriad of features.  The watch is polyglot as the interface can be displayed in English, French, German or Spanish. The time setting can provide the hour in military time or the standard 12 hour increments.  This setting also provides an alarm clock, stop watch, the date and the ability to set time zones.
The time zone feature is extremely cool because the Suunto Core provides a list of major cities in various time zones. The user simply selects the nearest major city to designate their time zone, and given the date, the Suunto Core provides the sunrise and sunset times for that particular day in that particular area.
The Suunto core is a world-class wristop computer for its ability to provide users with vital information like the altimeter/barometer feature that makes this a true mountaineering watch. All Black's altimeter will take you just beyond the height of Mt. Everest and can be set to read in meters or feet-above sea level. This function takes measurements in absolute air pressure, meaning that its calibrated reference point is absolute zero pressure (such as a vacuum). This means that the reading not only depends on elevation, but also current weather conditions as well. This should not be mistaken as a mechanical flaw but rather a mechanical advantage as it provides users with information of both elevation and weather conditions.
Suunto urges users to calibrate the altimeter/barometer as often as possible to obtain more accurate readings. Users can travel to areas with known elevations such as summits, base camps, or sea level and register the elevation. The watch then compares the imputed elevation to the current air pressure readings (absolute air pressure) to find the difference. This variable difference is based on the current weather conditions.
Like many of the more technical digital alpine watches available today, the Core All Black has a thermometer that will give you
temperature in Fahrenheit or Celsius. The sensor used for temperature readings must be of the same ilk as so many other current mountaineering watches as the temperature reading you get while the watch is on your wrist will be about 10° warmer due to pickup of your body heat. It's not a big deal to deduct 10° F from the reading, but it would be great when technology allows the manufacturer to isolate the body heat from the instrument. With the Core All Black of the wrist, the thermometer gives a very accurate reading that precisely matches analog thermometers and other wristop mountaineering computers. We don't consider this a drawback, but a reality one would take into account when you are watching for temperature drops or increases along your trek.
In the compass mode, the Core All Black is an invaluable to any climber or outdoor enthusiast. This is an example of when you would want to calibrate your Core to the geographical region you intend to visit by adjusting the declination angle (declination angle is the difference between magnetic north and true-north). Compasses point to magnetic north. Most maps are set to true north. So you must account for the difference in order to end up where you intend to arrive safely at journey's end. For us on the West Coast of Southern California, the declination angle is about 14° East. If we have a trip planned for the Canadian Rockies we would calibrate the Core All Black for the declination angle of that part of North America for greatest orienteering accuracy. The ability to calibrate your Core and adjust it to the environment is a discipline you readily take on as another task to allow you access to the best information wherever you find yourself in the global backcountry.
When you are orienteering using an orienteering map, you can set the Core watch declination angle to zero, because the map is aligned with magnetic north and the declination angle is not in play.
The Suunto Core allows users to set the value for Magnetic North by rotating a dial on the circumference of the watch face. You can also input your target destination compass point and the Core will keep you on track with simple "Turn Left/Turn Right" directions at the bottom of the watch face.
With practice and familiarity with your Core All Black will make recalibration just another mountaineering routine. Any misreading of the Suunto Core's instruments is not due to mechanical flaws but rather human error. This is a rule that many experienced climbers understand as gear checks are practiced regularly.
Experienced mountaineers understand how important it is to predict weather patterns. The Suunto Core, designed to assist climbers on Himalayan expeditions, features a barometer and meteorological settings. The impressive storm alarm can be a life-saving tool to predict oncoming storms before they strike. The barometer detects rapid drops in air pressure over a three hour period, which signifies a higher likelihood for nasty weather. The storm alarm alerts users when the drop in air pressure is consistent with the pressures of previous storms.
There is no replacement for basic outdoor skills and experience, and modern technology must not deteriorate these foundations. Today's modern technologies such as the Suunto Core All Black wristop computer (watch) can amplify the skills of experienced mountaineers as it has been designed to appeal to the specific needs of mountain survival. This is one tool that Sir Edmund Hillary was able to do without but he would have leapt at given the opportunity.
Outdoor enthusiasts find a thrill in finding new and creative uses for their gear, and the Suunto Core All Black provides a whole world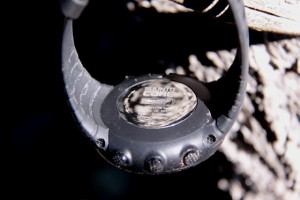 of opportunities to do so. The large user's manual which comes with the watch offers example scenarios where users can use some of the watches features. For example, one excerpt illustrates how users can combine the altimeter and stopwatch functions to assist them in finding the proper cook times for food such as eggs.
New generations of mountaineers are putting Suunto's reputation of reliability to the test and using its products to advance the sport of mountaineering. Suunto has recently released this new edition of watch in commemoration of Apa Sherpa's world record Mt. Everest ascent in May 2010. Apa Sherpa made headlines when he reached the summit of Mt. Everest for the twentieth time.
Sherpas have long been the unsung heroes of Himalayan climbing expeditions, often receiving less media coverage than their western associates. This has changed in the last two decades as stories of their superhuman physical feats and unmatched climbing skills have reached western media. Apa Sherpa's success on the world's highest peaks are not simply due to the fact that he descends from a proud culture of mountaineers, but his ability to use his years of experience and resources he has at hand to excel in the world's most unforgiving environments, and he relies on his Suunto wristop computers.
Mountaineering is a sport which demands a lifelong pursuit to mastery of the skills involved. There is no room for reckless adrenaline junkies, but requires adventurous and determined individuals that approach life like an aggressive chess player. They are meticulous in the calculated risks they take and constantly assess their own abilities and the pieces they currently have on the board. This means they have a unique bond with their fellow climbers and the gear they carry. Old-timers are correct to argue that one mustn't abandon their mountaineering skills due to an increased dependence on technology. True mountaineers apply their skills to their trusted gear to push their limits in unforgiving, vertical environments. The Suunto Core All Black gives testament to the saying, "Take care of your gear, and your gear will take care of you." We believe any person with a need for backcountry and upper elevation gear will find the Suunto Core All Black and valuable piece of kit that you can depend on and enjoy for many trips up the mountain.
Functions:
Time
Four language menu (English, French, Spanish, DE)
Altimeter
Barometer
Compass
Altitude difference measurement
Temperature
Depth meter
Automatic Altitude/Barometer switch
Storm alarm
Sunrise/Sunset times
User replaceable battery