The Mountain Hardwear Sub Zero SL Parka is one example of an expedition quality winter parka you can count on and expect to last far beyond your initial investment.
Mountain Hardwear's Sub Zero SL Parka is a serious gear item for winter back country excursions, high-elevation mountaineering, and general cold weather warmth. As the winter of 2010 unfolds, folks in the entire eastern half of North America are wearing parkas just to get to work. So even though the Sub Zero SL Parka is geared for extreme outdoor pursuits, it is a practical jacket filled with 650-fill down insulation and water-resistant exterior fabric.
Our test jacket arrived in a red/black color combination. Pesto/black and black are additional color options for this jacket. That's what we wanted for several cold-weather excursions that could start with afternoon freezing rain, sleet or slush then turn to heavy snow in the evening. During our testing, this jacket caught a bit of everything cold and icy.
The jacket's capability to immediately insulate and refract body heat kicks in soon as you slip into this hooded barrier from deep-freezing conditions. The down insulated hood is detachable. Yet it is attached in a manner in which heavy winds won't dislodge it from the parka body.
Draw cords on the hood allow you to quickly adjust the fit with one hand. Whether you wear a wool watchman's cap or a baseball cap – with a nice hand-formed bill – the SL Parka hood is roomy enough and adjustable,  to accommodate most head gear; including a bare pate.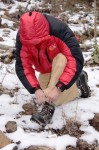 Yeah, it's puffy. Puffy means warm. Puffy is high-fashion in "kill you if you don't have it" cold. One-handed adjustable draw cords are also located at the waist and the bottom hem line of the parka so you can keep body heat in and powder snow, debris, or cold air out. By loosening the draw cords you can also vent out excess heat.
Composite zippers (made from nylon so that they won't freeze) secure fleece-lined pockets on either side of the SL. These lower-side pockets are large enough to easily find and heat-up your bare hands when you need to function with full finger dexterity, or those times you find yourself hanging-out in the cold and just bundling up. Two upper chest pockets also have composite zipper closures for storage of gloves, food, compass, etc.
An inside pocket on the left side is also zippered for items you want to keep close to your body, like your passport, and wallet filled with Chinese yen! On the right inside of the SL Parka is an open-top mesh pocket for storing your water bottle and keeping it close to your body to prevent freezing.
Articulated parka sleeves allow unhindered arm movement. Sleeve cuffs are roomy enough to fit
over layered under garments and cumbersome gloves. Velcro cuff fasteners aid sealing the sleeve cuffs over gloved wrists. And Velcro fasteners are also used to seal the primary parka front torso zipper.
We would have liked to see more Velcro tabs available on the front zipper storm-welt, to function as a primary closure should there ever be a time when the primary zipper is hard to operate such as gearing up in pitch black nights, or situations when you are unable to take the gloves off.
It would also be good to have the option of upper sleeve or shoulder pockets using the Conduit SL and AFX weather-sealing fabric treatments and zipper protection.
We looked for the ability to shove this super cold-weather parka into its own little stuff sack and load it up in a pack. That's how we like it. This compression capability is also great for travel, as it packs well in luggage. You know, there are times when you board the plane in Los Angeles sunshine and exit the craft at Logan Airport in Boston, smack in the middle of a winter night deep freeze. This Sub Zero SL is ideal as an emergency parka for long winter road trips in snow country where just having it with you affords some piece of mind when you find yourself waiting for a wrecker to come and winch you out of the center medium during a blizzard… after you've run out of gas.
At a weight of two pounds, five ounces, the SL is not a burden to transport in a pack.
One hundred percent ripstop AFX nylon comprises the outer fabric. Working with the exterior tough and lightweight parka shell is the breathable Conduit SL laminate membrane to keep driving wind, and water (in any form) out. The Conduit SL laminate assures you this jacket is waterproof. Both the exterior Conduit SL laminate and interior Conduit SL laminate serves to add a level of warmth and deliver protection you can stake your comfort on. So, puffy, light, and warm as the Mt. Hardwear Sub Zero SL parka is, it's also impervious to wind and rain.
Like we mentioned above, the conditions this SL was worn in brought us sleet, freezing rain, snow and bitter clear-sky cold.  Nothing we experienced phased the insulation, warmth, and comfort level we enjoyed wearing this parka.
Here's also what winter back country seekers and alpine mountaineers will readily lock onto. The Mt. Hardwear sub-zero SL parka is your upper torso down sleeping bag when used in combination with an half-bag or elephant foot type down bag. Not only is the SL your daily wear option, but your sleeping quarters if you choose. It's that legitimately capable of keeping your entire body warm.
We stayed dry in the conditions we found ourselves in. We did not stand out it a raining downpour, nor did anybody jump into the shower with it on. It worked great in ugly weather, real-world use. But the AFX laminate used as a durable water repellent (DWR) is designed to be five times more durable than any other DWR. This all the more increases its value as a practical cold weather investment.
During our test trips, we were able to navigate seriously freezing weather conditions. The jacket is very warm even when not moving about or heating up the body core with exercise. All things considered, this Mountain Hardwear Sub-zero SL Parka is useful for any activity that requires one to be out in freezing temperatures and winter conditions.
Although the loft appears bulky, the SL Parka allowed free movement of the arms and upper torso. It was very comfortable in all cases. This is a serious mountaineering and alpine jacket beyond a shadow of a doubt. Yet this is a winter jacket that lends its warmth and durability at a reasonable investment to any application.
By Rick Shandley
Specifications:
Fleece-lined hand warmer pockets
Baffle construction for maximum loft/warmth
Durable, waterproof fabric
650-fill down insulation for warmth
AXF Super Durable Water Resistant (DWR) finish
Repels water five times longer than standard DWR's
Integrated hood will not detach in high wind
One-handed hood and hem/waist draw cords for quick fit adjustments
Stuff sack included
MSRP: $395 U.S.
Other Gear Reviewed:
Mountain Khakis Original Alpine flannel-lined pants
Lowe-Alpine Cerro Torre 65/85 backpack
Merrell Outbound Mid Leather backpacking boots
Benchmade Marc A. Lee tactical survival knife
Timex WS4 Expedition multi-function compass watch
Kelty Foraker (-15 degree F/26 degree C) Down sleeping bag
About 650-Fill Insulation
Let's talk about that 650-fill insulation as we have written about the various grades and qualities of goose down insulation before. The highest quality goose down is considered 850-, 800-, and 750-fill range. These are the best, hand-selected, goose down filaments money can buy. Products in this range are expedition-quality often used in gear for high-profile ascents on Mount Everest and the great peaks; the price is also great.
Parkas, pants, sleeping bags using down in the 700- to 750-fill range are also expedition quality and provide the insulation needed to keep a body warm in sub-zero weather; but the price is a little lower for these products. Jackets and gear using 700-and 750-fill down are fully capable of doing the job they are designed for.
Now, the 650-fill insulation used in the Mountain  Hardwear Sub-zero SL Parka is comprised of 85 percent  down and 15 percent feathers. That's okay, this is also a fully expedition capable piece of kit. This parka is practical, especially if you're activities and uses are not limited to sipping tea at Everest's Camp IV or feeding the lamas at base camp in a blizzard. Yet to get the same level of warmth for the SL's retail price of slightly less than $400.00 U.S, in a parka with pure goose down in the 800-to 850-fill category, you can expect to pay about a grand. The parka with 800- to 850-fill down might be a little lighter, loft a little quicker, and perhaps provide a little more warmth. But all the core design elements, durability, and advanced materials used in modern parkas are built into the Mountain Hardwear Sub-Zero SL Parka.  That's probably the biggest Aha! Moment we discovered about the SL… it's worth it!