Hydra Gloves: An all-season staple for high-country hand protection!
Mountain Hardwear is well known for innovation and reliability in outdoor gear, and their Hydra alpine/climbing gloves were no exception. As we often do when evaluating a piece of outdoor equipment, we took the Mountain Hardwear Hydra gloves on several trips with a variety of cold, wet, and winter weather conditions. And as we customarily do, we chose a product that our initial research suggested would be a worthy piece of kit to recommend to others.
However, our first choice was to test a pair of Mountain Hardwear Medusa insulated gloves, designed for high altitude mountaineering, when the winter of 2010 was at its coldest. But only the Hydra gloves where available to us, so we ran with it. What else could we do? The word "No" is such an indelicate word.
We figured Hydra was using most of the same technology the Medusa gloves offered, but with a lesser threshold of winter severity and comfort range. As it turned out, that scenario worked out well and compelled us to tailor our test sessions to just plain freezing cold weather.
So at this point, it's our contention that we actually do have a good idea of how well the Medusa gloves would work simply because the Hydra's worked so well in the applications we wore them in. That said, we would still like to evaluate the Medusa gloves on their own merits. In any event, you, the reader, can draw some insight into all the Mountain Hardwear alpine and mountaineering gloves that use the OutDry® waterproofing technology, including the Medusa.
At a combined weight of seven ounces, they are already ultra-light. You won't have to torment yourself on color options as these finger-guards only come in black, with charcoal grey goatskin leather palms (Size range: XS, SM, MD, LG, XL). Interior gauntlet color is "Help Me" orange. And the high-pile fleece lining is not only warm and fuzzy, but it's black as well. You can expect to pay about $100.00 for a pair for an investment that will likely last for many years of hard use.
OutDry® is the waterproof, yet breathable membrane just beneath the Hydra's exterior shell. Hydra's four-way stretchable glove shell is bonded to the OutDry® membrane to create a barrier to wind, water, and the piercing nature of low temperatures.  And because these construction materials are bonded together, not even the sewn glove seams are vulnerable to weather intrusion.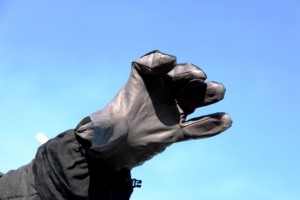 And under the exterior weather proof shell and membrane, the Hydra gloves are lined with high-pile Velboa™ Raschel fleece for warmth. Now, the primary difference between the Hydra and Medusa gloves is what Mountain Hardwear describes as high-tenacity nylon glove shell material and include removable heavier-gauge fleece Windstopper glove liners. Not to be denied the potential for additional hand warmth, we simply used our own liner-gloves when temps dropped and our activity became more sedentary during the evening hours.
We found the long glove gauntlets (gauntlets cover the wrist and forearm) and the ability to secure the Hydra gloves over long-sleeve outerwear to be excellent, like wearing boot gaiters. The extended OutDry® and glove-shell combination along the lower forearms offered additional warmth and protection when working with the hands to manage icy objects or dig in the snow.
Goatskin leather palms of the Hydra (and the entire Mountain Hardwear OutDry® series of alpine and mountaineering gloves) are waterproof and hardy while retaining that ever so important characteristic of being pliable. In the long-run, it may be that the goatskin leather needs to be maintained with waterproofing sealants simply to keep the leather conditioned properly. The Hydra's shell and membrane will not lose its waterproof capability, but leather of any kind needs periodic maintenance to ensure the leather lasts as long as the glove shells.
For a pair of alpine gloves with as much weather and abrasive protection as the Hydra gloves deliver, we were very happy with the dexterity and grip.
And when you are loaded up with your pack and outerwear for the day, gloved hands can make for some clumsy moments. Our Hydra's worked very well for those times where we had to fasten a jacket zipper, reach for the water bottle, or set up a tent. Each glove is outfitted with a carabiner loop to clip the gloves to your gear or hang them on. You can use the clear gauntlet-adjuster tab your teeth to cinch up the gloves around your wrists.
You can question whether you really need a pair of gloves like the Mountain  Hardwear Hydra gloves if your back country activities are less than full-on mountaineering or clinging to granite spires with ropes and pitons. And that's a valid question. But we found these Hydra gloves to be extremely adept to back country pack trips, hikes, and overnight trips in cold weather.
Even now, snow and ice continue to dominate the high-country as spring blends into summer. We found these gloves are well suited for any mountain adventure where the gear you have with you is the equipment that makes or breaks the joy-factor of that experience.
When your hands are wet and cold, you're compelled to stop and warm up. These Hydra gloves virtually eliminate wet and cold hands, and they are good for use in any upper-elevation conditions where snow, ice, rain and cold can sweep in at any time of year.
Check out the full line of Mountain Hardwear OutDry® gloves, and we're fairly certain you'll find a pair that will fit your application for many alpine excursions to come. Although our first choice was the Medusa gloves, we wouldn't have experienced just how versatile and comfortable the Hydra's turned out to be.
By the way, these Hydra's will be on-board when trout season opens the last weekend of April in the High Sierras. No doubt, the weather will be chilly up around 8,000 feet where cold and wet is part and parcel simply to catch enough Alpers to make dinner. When the backcountry opens up, these gloves will be on the gear list.
By Rick Shandley