The Insight from Five Ten is a fast hiking shoe that's ligher than an approach shoe, but is perfectly suited for scrambling and handling difficult terrain
By Dan Sanchez
The emergence of fast trail hiking shoes offered many active outdoor enthusiasts the characteristics of a running shoe, with the support and traction needed for hiking with a daypack.  Five Ten's rock climbing DNA however, takes their Insight trail shoe off towards a slightly different tangent.
Like most fast trail hiking shoes, the Five Ten Insight has a running shoe design, with support in the heal and fore foot to absorb impacts. But a lightweight Nubuk leather uppper offers more support and includes protective toe rands that are perfect for gaining additional traction during some scrambling and light bouldering.
Just like all of Five Ten's shoes, traction is the key element that offers the wearer increased confidence on river rock, scree, or up a sandstone wall. The company's Stealth c4 and Stealth S1 combination rubber outsoles give the Insight the high-friction of a rock climbing shoe, with the impact absorption and durability of a traditional hiking shoe.
Deep multi-directional tread lugs grip well in mud and dirt. If you want to pick up the pace and jog up that trail to impress your buddies, the Insight won't hold you back.  We also thought the Insight looks great. Brush off the dirt and you won't be embarrassed walking into the coffee shop. It's the type of shoe that looks good if  you're wearing a pair of rock climbing shorts, or jeans.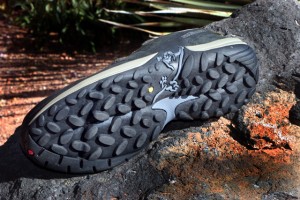 The ten shoe lace eyelets and eight mesh lace eylets ensure that the Insight can be tightened up for scrambling, and easily loosen for casual wear. During our time with the Five Ten Insight, we had one hot-spot develop from the mesh webbing that would rub against the little toe. We stretched that area by pushing it out from the inside and found some releif. After a week the area didn't give us any more problems.
The Insight appears to be a little heavier but more robust than Five Ten's Savant Lo (read our review here). But the Insight is definitely a better choice for taking on long hikes with a light backpack or daypack. But perhaps one of the best things we liked about the Insight is its low price. The shoe retails for under $100 and makes for a much better hiking shoe than wearing a pair of sneakers on the trail. For more information, visit www.fiveten.com