Campers and backpackers can elminate some weight by using Innate's MC2 storage system.
By Dan Sanchez
Both backpackers and campers love dual-function designed products that eliminate the need for carrying extra stuff. Sporks, flashlights with a built-in compass and knife, and sleeping pads that fold into a chair are some items that make being outdoors a little easier.
Innate's MC2 storage system is another innovative item that can save you from carrying extra storage containers and eating bowls during your outdoor adventures. The MC2 is a 304-grade stainless steel container that holds 26 ounces (775 ml) and features a food-grade silicone lid. Push on the center of the lid and it pops open into a 13.5 ounce bowl with a flat bottom that's great for eating out of. The lid is also BPA and phthalte free and can is microwaveable, but not recommended for heating liquids.
How much dried food can the Innate MC2 hold? We fit an entire dehydrated meal for four from Wise Foods into it and poured the contents into a large pot with 5-cups of water. The MC2 is also the perfect size for holding cereal, oatmeal and other non parishable food for a camping or backpacking trip.
We also found that it's easy to clean up the stainles steel container with mild biodegradable soap but it takes a little more effort to clean the lid.  We found that freeze dried tomato sauce may stain the lid, but even after several uses, the lid continues to provide an air-tight seal.
The MC2 retails around $20 and because of it's design, you can stack several on top of each other to really conserve space.  For more information, visit www.innate-gear.com, where you can also get recipies like this one for Tomato Lentil Stew that can be stored and prepared in the MC2 container.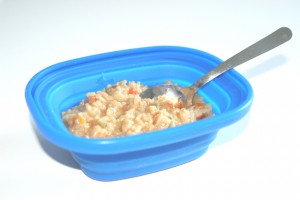 Recipie Courtesy of Innate Gear
Tasty Tomato-Lentil Stew
An excellent and very nutritious meal that can be served with rice, bread, or, on its own. It works best to re-hydrate in advance using the MC2 Food Container to get the full flavor.
Serves 2 hungry people.
To make the stew:
Wash 1/2 cup brown lentils and 1/4 cup of red lentils Cover with at least 1 inch of water, bring to a boil, simmer for 45 mins.
While Lentils cook:
Sauté 1 onion and 3 cloves garlic chopped in olive oil till translucent Add 1 tps Garam Masala (you can always use more spice when camping).
Chop and add to onions:
1 small carrot
1/2 cup of green beans or kale
1 cup mushrooms
Then, drain, rinse and add the cooked lentils to the sautéed onion mixture and stir
Add 1 tin of diced tomatoes
Bring to a boil, simmer for ½ hour to reduce
Salt and pepper to taste
Once the stew is to your taste, puree it in a blender so it will de-hydrate evenly. Then, spread it on oiled wax paper in a food dehydrator (or very slow oven 100 to 150 degrees) to de-hydrate. This can take 24-48 hours. The drier it is, the longer it will keep and the longer it will take to re-hydrate.
In the morning, put 1.5 cups of the crumbled, dried stew with 1.5 cups water in the MC2 to re-hydrate for the day. To cook, simply bring to a boil while stirring in a pot and simmer for 5 mins (you can add more water to prevent sticking or make more of a soup like consistency).
Options:
add a chopped jalapeno, or, a spoon of red curry paste plus cumin and pepper while cooking Crumble hard cheese on top to serve or serve with rice or bread.