Saint Rose:  The first saint born in the Americas.  At her confirmation in 1597, she took the name of Rose, because as an infant, her face had been seen transformed by a mystical rose.
We understand transformation upon stepping out to the expansive ecological territory of the Santa Rosa Plateau.  Just east of Murrieta, CA.  This is no ordinary backyard hike, this is a front door to preserving our past.  The Santa Rosa Plateau consists of approximately 8,400 acres of several native plant communities. There are 59 (of the 120 sensitive species) in the Inland Empire of Riverside and San Bernardino counties which can be found on the Santa Rosa Plateau.
Our journey began at the visitor's center, for a mere day fee of $1.00 for children 2-12 and $2.00 for adults. So we willingly paid our shining pence for access to more than 40 miles of trails!
The visitor's center provided us information of various plant and animal species among the plateau; live plant species, Replicas of
various plant species were on display offering several in-season wildflower photos for our reference. We decided the vernal pools would be our ultimate destination point of the hike, and were excited to be able to determine what other points of interest we would be encountering.  Englemann Oaks, Chocolate Lilly's, and the Moreno and Machado Adobes!
What a gorgeous day, gentle breezes and White-tailed Kites, one of the 180 species of birds roaming the Santa Rosa, were whispering the secrets of the plateau to our spirits.  We had to remind ourselves we were surrounded by the hustle and bustle of city life around us.
Engelmann oaks, are found dotting the grasslands. These beautiful Oaks are probably the most endangered natural plant communities in California due to extensive residential development in the mesas where they naturally thrive. Walking the trails in, around and under these great trees was a pleasurable experience as its open canopy caught the sun and directed it'\s attention to the emerging young wildflowers amidst the dried bunchgrass.  Large twisting limbs give a natural architecture to the Santa Rosa Plateau landscape, providing structure and balance to the expansive plains.
What a treat we were able to visit the Plateau after a recent rain.  As the resident mountain lions, bobcats and gray fox left imprints along our trek, we realized just how much of a visitor we really are here!  The life isn't just restricted to the birds of the air and the plant species;  hundreds of caterpillars were a foot on our journey, weaving in and out of the gray fox prints to compete for existence.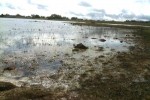 Sweet success as we continued on Trans Preserve Trail and spotted the Chocolate Lillies! The chocolate lily is an increasingly difficult perennial to find in the wild due to habitat loss, Chocolate lilies bloom as early as February and March, and as late as April and May. The flower is a striking brown color reminiscent to the color of chocolate. So delicious to discover them nestled among the dried grasses, bringing sweet refreshment to our eyes.  As tempting as they may be to take a few of the flowers home, don't do it.  The ecological reserve is a look, don't touch experience.  Making our way towards Hidden Valley Road we were on our way to discover a time gone by.
The Santa Rosa Plateau was once Rancho Santa Rosa.  In 1846 sheep rancher, Juan Moreno, acquired just under 47,000 acres in a Mexican land grant. He sold his ranch in 1855 to neighbor Augustin Machado for one thousand dollars. The Moreno and Machado adobes still stand as the oldest structures in Riverside County. These old adobes once served as bunkhouses for cowboys 1846*
Looking inside the bunkhouses further brings you back to the 1800's with replicas of furniture from the time; the adobe structures are situated between a 400 year old tree and a picnic area.  Resting with a cool drink at the picnic area is a perfect place for bird watching, as we watched a variety of birds flying from oak to oak.
Just outside the bunkhouses, we encountered granite mortar holes where Native Americans ground acorns into a floury meal. We are really feeling in another time and place.  Being in a beautiful environment such as this really makes one appreciate peace and tranquility and inspired us to grow our own food and prepare it as Native Indians did long ago.  Wouldn't have to do many dishes either!
As we traveled southwest to the vernal pools, Starbrights lined the trail and lit up our path to the Vernal pools.
We were very surprised as we reached the largest vernal pool at the plateau!  It was much larger than we expected.  As we made our way towards the water edge, we were sensitive not be step in these vernal pool waters, as bacteria from the boots are too sensitive to the fairy shrimp which hatch from cysts that have survived desiccation through the heat of many summers.  In only 40-50 days, they live their complete life cycle, and the population is back to only cysts.
Past meets present at the Santa Rosa Plateau.  Preserving our past and future.
By Mary Webb
Photos and map creation by the author
Sources:
*http://www.riversidecountyparks.org/locations/nature-historic-centers/santa-rosa-plateau/plateau-history/