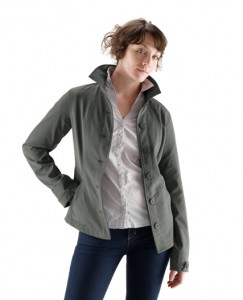 Nau outdoors fashion wear, like the new Versa Blazer, brings out your sense of style. And you are concerned about keeping any product's carbon footprint from getting too much larger. Since Versa Blazer is created from 100-percent recycled polyester, you already did a good thing for the environment for a modest investment of $195. You're getting this versatile garment that's cut for versatility of movement and crafted with panache.
Street-ready details like sculpted extension cuffs and security pockets are concealed within a fitted and feminine silhouette. Wind and water resistant, and highly breathable, this tailored, button-front, soft shell is constructed for ultimate flexibility.
The recycled polyester in the Versa Blazer uses Teijin ECOCIRCLE -fiber, which comes from post-consumer and post-industrial polyester waste. Closing the loop, at the end of its long life the Versa can be recycled into polyester fibers for reuse.
We'll have a review for you in the weeks ahead when we hear back from our contributor at large, Mary Webb, after she's raised a few wine country Cabernet's and scooted through the best vineyards northern California has to offer and wearing both the Nau Versa Blazer and the Nau Glimpse dress.