Cyclers Race In A Lake Tahoe, Annual Tradition
It's a Reno/Tahoe tradition, that bicycle racers gather to compete in the  Tour de Nez bicycle race and festival. The 17th annual festival, presented by Northstar-at-Tahoe Resort hosted  pro racing for both men and women, a hand cycling Omnium, and the national Hand Cycling Criterium Championship presented by IGT on the second stage of the race, in downtown Reno, Nevada. 
 For the pro racers, the three day Omnium allowed riders to earn points for each day towards an overall prize. The racing began on June 18 in Truckee, followed by the famous downtown Reno Criterium on June 19, and ended at the Northstar-at-Tahoe Resort on June 20. Race leader and double stage winner Chad Gerlach had his hands full in defending his Omnium title against a rabid California Giant Berry Farms squad, intent on putting Steve Reaney into the overall lead. In the end, Gerlach got it done, edging Reaney for the overall title in front of an elated crowd.
The women's race was equally exciting, as Tibco's Amber Rais successfully defended her Omnium crown from a game Katerina Nash of the Luna Chicks team. Nash won in Reno on stage two Friday, and the mountain bike-oriented rider managed a solid third place at Northstar behind a flying Amber Rais and Olivia Dillon. Rais was deemed the winner after her teammate Alison Starnes was relegated one lap down for mistakenly taking a free lap during the race.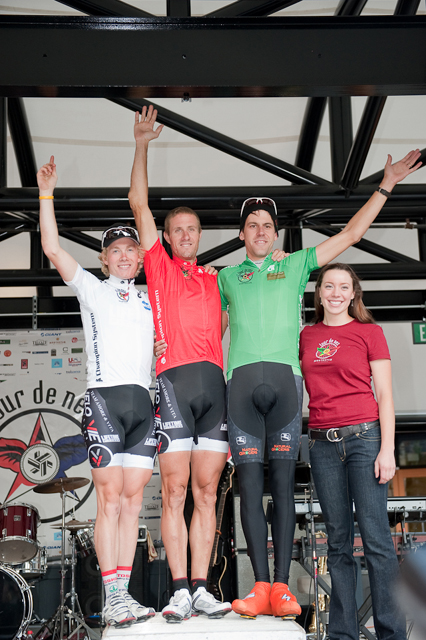 2009 is a big year for hand cycling and the Tour de Nez.  The 17-year event was recently awarded the National Hand Cycling Criterium Championships taking place in downtown Reno on June 19.  In this event, Alejandro Albor rolled away victorious again, winning for the third time in as many days. He blazed the four lap course alone and even added a fifth lap for good measure, showing that he is on form and ready for the upcoming cycling world championships in Italy.
 For the fans, the Tour De Nez offered an expo area featuring gear, as well as the always entertaining "Clunker Classic" and Kids Races. The "Clunker Classic" will featured participants riding bikes weighing 25 pounds or more that are judged on originality. The event also featured a block party at the end of each day of racing, that included live music, food and drinks.
Finally, each day of racing will feature a crowd prime, or a cash prize donated by the attending crowd for the first rider across the line on a given lap of a race. The crowd prime gives the audience a chance to own a piece of the race, and the top cash donator for each prime will be invited up on stage to view the end of the race action. For more information on the Tour De Nez, visit www.tourdenez.com or call 775-287-3599.
By Briggs Heaney
Images courtesy Lyman PR